Electric vertical take-off and landing (eVTOL) aircraft start-up Joby Aviation is hopeful its in-development air taxis will eventually be used by the masses and not be reserved "just for the elite".
Speaking on a panel at the Passenger Experience Conference in Hamburg, Germany on 5 June, Joby's design and experience lead, Adam Wells, said that, if successful, air taxis "could dramatically increase the amount of times large numbers of people fly".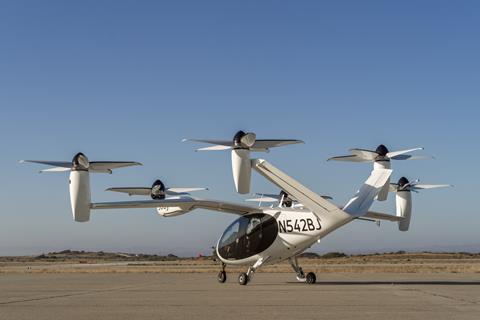 Joby intends to flight test two eVTOLs at Edwards Air Force Base in California in the first quarter of next year, ahead of planned service entry in 2025. Over time, the start-up plans to make "dozens, then hundreds, then thousands" of eVTOLs, says Wells.
While the air taxis "may start as a premium product", Wells says he hopes they will "not just [be] for the elite" in the long term.
"Our longer-term ambition is to save time for as many people as possible," he notes, adding: "Every time I'm stuck at a traffic light, I think this can't happen soon enough."
Another start-up aiming to revolutionise the way people travel is Hybrid Air Vehicles (HAV), which is developing the Airlander 10 hybrid air ship.
Addressing the Passenger Experience Conference, HAV executive sales director George Land said that by the end of this decade its 100-seat hybrid-electric air ships with "lower carbon emissions" could be transporting passengers across cities and landscapes in "very large, spacious cabins".
"Originally, our engineers wanted a small cabin because it's nice and cheap and it resembles what people experience on aircraft," recalls Land. While HAV "nearly went down that route", he appears glad that air ship passengers will not experience the sometimes cramped conditions associated with aircraft cabins.