Low-Earth orbit (LEO) satellite operator OneWeb has moved a step closer to its planned 2023 entry into the in-flight wi-fi market by successfully delivering connectivity to a Boeing 777-200LR during a recent test flight.
The test involved the 'Sidewinder' terminal, developed by Stellar Blu Solutions – formerly known as GDC Advanced Technology. The terminal incorporates Ball Aerospace's electronically-steered array (ESA) antenna technology.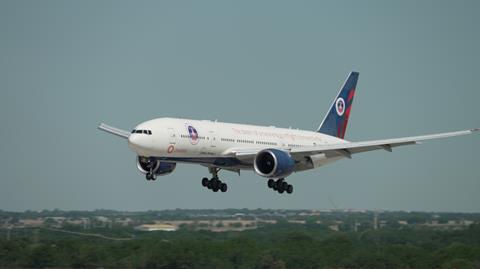 During the 1h-long test flight the terminal achieved speeds of 260Mbps and simultaneously demonstrated the ability to connect to Microsoft Teams, 4K YouTube streaming, Netflix, online VR gaming and Nintendo Switch gaming. Network latency was "well under" 100 milliseconds, says OneWeb.
The provider is marketing its in-flight connectivity solution as a lower-latency alternative to existing geostationary (GEO) satellite-based solutions, which have to communicate with satellites much higher above the Earth's surface than LEOs.
Flight tests will continue throughout the rest of this year, with certification of the Sidewinder terminal expected in mid-2023. OneWeb expects to launch its new service in the middle of next year. It has so far launched about two-thirds of its 648-strong constellation of satellites.
Responding to suggestions from incumbent GEO satellite providers such as Inmarsat that LEO is unsuitable for the aviation market as a standalone service, OneWeb vice-president mobility services Ben Griffin says: "Multi-orbit has a part to play but for airlines around the world, LEO will stand alone and be more than capable of doing the job for IFE."
He adds that airlines have been "incredibly interested and inquisitive" in OneWeb's in-flight connectivity service, and there is a "real hunger to see how IFE will develop" over the coming years.