Suppliers are innovating to make in-flight catering and services more sustainable, as airlines look for ways to reduce single-use plastics and food waste in the cabin.
Spoons that can be eaten after use; straws and cutlery made from compostable agricultural waste; and in-flight meals with a shelf life of up to two years that have fed astronauts in space. These are some examples of the innovations taking place to make in-flight catering and services more sustainable, as airlines look for ways to reduce single-use plastics and food waste in the cabin.
Sustainability is a hot topic for the airline industry, which is under growing pressure to cut greenhouse gas emissions and find a flightpath to net zero. While much emphasis is placed on moving away from burning kerosene towards alternatives such as sustainable aviation fuel and, further into the future, electrification and hydrogen, a number of lower hanging fruits that can improve airlines' green credentials are ripe for the picking. Many of those relate to what carriers serve their passengers in the cabin, and what they use to serve it with.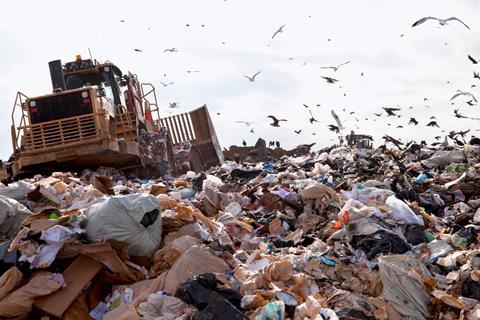 A number of exhibitors at this year's WTCE in Hamburg are showcasing products with sustainability at their core. One of those is Incredible Eats, which has developed a spoon that can be eaten after it has served its purpose.
The Incredible Spoon is made from wheat, corn, chickpeas and brown rice, and comes in a variety of flavours. Its producer says that each spoon is designed to hold its shape for 30min in hot soup or cold dessert, after which it can be consumed by the diner. Even if it is discarded rather than eaten, the spoon will degrade – unlike the single-use plastic cutlery items it is seeking to replace.
"Our journey started at an ice cream shop," recalls Incredible Eats founder Dinesh Tadepalli. "Just spending 10 minutes eating our ice cream, a question occurred to me: 'Why didn't I think twice before using a plastic spoon for a few minutes that's going to stay on the planet for hundreds of years?'"
Using his engineering background, Tadepalli set out to find a solution. With his co-founder, Kruvil Patel, he invented a machine which mass-produces edible cutlery. After an initial run of 100 items a day, an order for 150,000 spoons from a caterer prompted Tadepalli to sell his home and expand the manufacturing facility.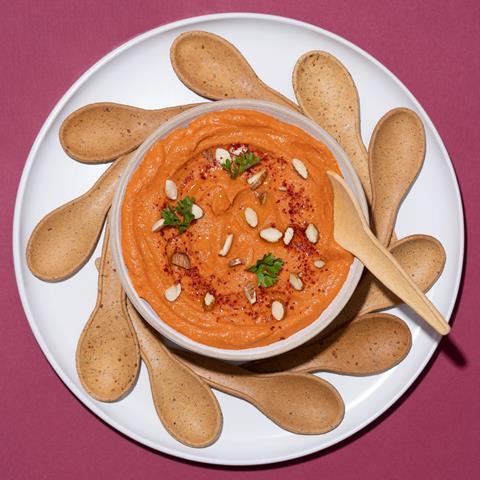 "We scaled to manufacture 50,000 spoons per day and introduced edible sporks, edible straws and edible chopsticks, starting in 2022," he says. Now the company is targeting airlines and cruise ship companies, and is hoping its first time as an exhibitor at WTCE will help to secure its first customers from these sectors.
"We have a very famous international airline, based in the US, already exploring using our edible spoons with their yoghurt parfait at airport lounges. It's a work in progress and will be confirmed in a few months," says Tadepalli. "We believe WTCE will provide us with the right opportunities with the right airlines aiming to reduce single-use plastics."
He acknowledges that the spoons are more expensive than their plastic alternatives, but says the cost is coming down as production scales up, and it is a price worth paying for a more sustainable product.
"It is more expensive than cheap plastic, but since it's edible – in both sweet and savoury flavours – we hope it provides a fun and innovative reason to spend the extra few cents in an effort to preserve the planet for future generations," says Tadepalli.
Another exhibitor offering airlines an alternative to plastic onboard cutlery is Netherlands-based Cyclups, which makes plant-based compostable cutlery from wheat straw combined with lignin and cellulose from trees.
Cyclups chief operating officer Sean Colombon says the idea came about while backpacking in Asia and seeing first-hand the "enormous problem" of plastic waste.
Initially, the plan was to use wheat stalks – the straw-shaped part of the wheat plant that is normally discarded – as a replacement for single-use plastic straws. However, when requests came in from potential customers to change the diameter of the naturally-occurring straws the decision was made to partner with Chemelot, a subsidiary of Dutch thermoplastics group DSM, and combine crushed wheat straw with lignin and cellulose from trees to create granules known as PLQ that could be moulded into different shapes.
"This was a trigger then for people to say, 'if you can make a straw then you can make forks and a knife and whatever'," says Colombon, noting that Cyclups received requests for compostable products ranging from flower pots to coffins.
"Our main goal is to replace as many single-use plastic products with natural and compostable alternatives, so we said the Cyclups business is only going to make straws and cutlery," he adds, although the company also provides the PLQ as a raw material for other manufacturers to use in their own products.
Colombon is hoping to persuade airlines to buy his products as a more environmentally-friendly alternative to plastic onboard cutlery. This year will mark Cyclups' first physical presence at WTCE, although Colombon says its participation in the online event last year drew interest from several airlines and resulted in follow-up meetings afterwards. He hopes to secure the company's first airline customer by the end of this year.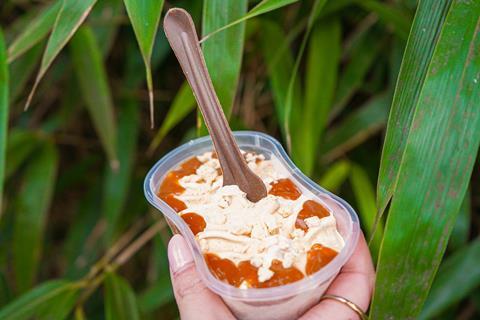 "We think this is going to be the solution. We certified 100% zero plastic in our product and it's compostable and doesn't leave any microplastics, and that's a combination few in this world can say in this moment," he says. Cyclups' products are pricier than single-use plastic items, but the company does not view plastics as a benchmark.
"We benchmark ourselves with wood. That's our main competitor on cutlery and with straws the paper straw is our main competitor," says Colombon. "I'm not going to, and I don't want to, compare ourselves with plastic because it's a completely different product. Obviously [our product] is more expensive, I cannot deny that, but it's a different type of product with a way different impact on this world."
In addition to reducing the amount of single-use plastics in onboard catering, cutting down on food waste from in-flight meals is also a key issue when it comes to sustainability. It is an area of focus for aviation service company LSG Group, which is seeking to reduce food waste through the use of artificial intelligence and a special method of steam sterilisation known as autoclaving.
LSG recently developed four meals for German astronaut Matthias Maurer to eat during his visit to the International Space Station. The meals, which included venison ragout with dumplings and geheirade (a local speciality from Maurer's home region of Saarland), can be kept for up to two years at ambient temperatures, thanks to a sterilisation process called autoclaving. This process, says LSG, increases the shelf life of the food while retaining the majority of its vitamins and nutrients.
To comply with the unique requirements of space the food was packaged in cans, although LSG says autoclaved meals could be served in airline trays and used by the aviation industry as a sustainable in-flight catering solution. The ability to store in-flight meals at ambient temperatures for at least six months and up to two years, it says, can help to cut down on food waste.
"This is something very promising that we haven't had in the past," says Simon Frischemeier, head of sustainability management at LSG Group. "We are looking right now for partners, for airlines to commercialise this product."
Anything from braised meats to thick soups and desserts is ideal for autoclaving, says LSG. The company will be demonstrating some of its autoclaved meals during WTCE's Taste of Travel Theatre.
LSG is also trying to cut down on in-flight food waste by using artificial intelligence to determine what type of food is most commonly wasted, and whether there are particular flight times or routes where more meals and snacks go uneaten. LSG's Consumption Analytics pilot, which started in November and is now in its closing phase, involves taking pictures of food trays post-flight and using artificial intelligence for image processing, to analyse what has been eaten, partially eaten or left untouched.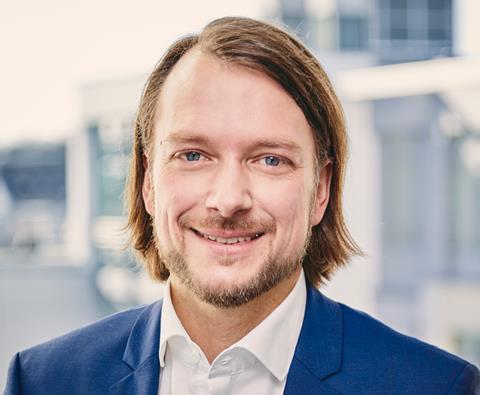 "When you do a walk on the shop floor and you're passing by the in-bound area where the carts are offloaded after the flights, there is lots of untouched and uneaten food," says Frischemeier. "In the past, many caterers saw it as a 'how do we handle the waste?' [issue], but we thought about it in a smarter way. This is not just waste, this is actually information and data arriving." This data, he adds, can shed light on whether aircraft catering products have been loaded suitably, and how improvements could be made.
"With the data you can make very fast conclusions: Are there any shifts in needs for the passenger? Are there differences on different routes? And how are new concepts received by the passenger?" says Frischemeier.
The Consumption Analytics pilot has discovered that for some components on certain flights, as much as 50% of a particular food product is left uneaten by passengers and goes to waste. By collating and analysing the data, it is possible to glean whether there are certain times when an onboard catering service is provided but proves less popular with passengers.
This data then "triggers a discussion" with chefs and in-flight management teams to understand when there are issues with the service and how it can be adjusted, says Frischemeier. For example, "do we need to change concepts? Or do we need to change the amount of loading? Or do we need to have a totally different product?"
LSG has airline customers for the programme "in the pipeline" and is keen to work in partnership with carriers to implement it in the marketplace.
On the issue of single-use plastics in onboard catering, Frischemeier admits that "we can do much more", but he is optimistic that things will continue to improve.
"We need to work together with our supply chains to find further alternative materials. This will be a new, interesting discussion [on how to] move away from disposable equipment in a meaningful way," he says. "There are challenges, but I'm very optimistic that this can be covered in the coming months and years."