United Airlines has made what Panasonic Avionics says is "the largest IFE investment in history" after agreeing to become the North American launch customer for its Astrova in-flight entertainment solution.
The deal follows an earlier commitment by United in 2021 to install Panasonic's X Series and NEXT IFE systems on both widebody and narrowbody aircraft.
United will install a total of about 300,000 Panasonic screens through the two agreements, as part of its plan to put seatback monitors in every seat. United's aim is for its aircraft to become "one really big airborne movie theatre", says the carrier's managing director of identity, product and loyalty, Mark Muren.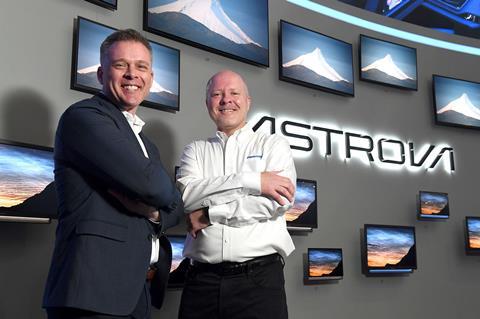 The US carrier will begin installing Astrova monitors on its international fleet of Airbus A321XLRs and Boeing 787s in 2025.
Panasonic also announced at the show that it has expanded its Astrova portfolio – which the company launched at last year's AIX – to include five new, different-sized 4K OLED monitors for first- and business- class cabins, in addition to the 13in and 16in screens with which it launched. The new screens range in size from 19in to 42in. The company says that every screen size introduced at this year's show has already been selected by an airline.
Saudi Arabian Airlines (Saudia) announced at the show that it will retrofit up to 30 of its Airbus A330s and Boeing 777s with the Astrova solution. The airline's vice-president of marketing and product management, Essam Akhonbay, tells FlightGlobal that it will install 22in and 27in monitors in its premium cabins and 13in screens in economy. He says the solution "brings the on-the-ground experience passengers are looking for on board".
Since launching Astrova a year ago, Panasonic Avionics chief executive Ken Sain says the IFE system has been "tracking at twice the adoption rate" of the company's eX1 and eX3 solutions.
Astrova's modular architecture helps airlines keep their cabin technology up-to-date, says Panasonic vice-president product management Andy Masson, because it can be easily upgraded throughout its lifecycle "with minimal re-certification efforts and costs". The system provides a "fully immersive experience" for passengers, with spatial audio delivering "surround sound" through the headphones.
Passengers on board Astrova-equipped aircraft can have up to 100W of DC power, via USB-C, at their seat, which Panasonic says provides "the ability to fast charge nearly every current phone and tablet, and around 90% of the world's laptops".