Viasat is casting an eye on its fourth group of satellites as full global coverage through the launch of its ViaSat-3 constellation draws near, amid what it describes as "ever-growing demand" for in-flight connectivity.
The US-based company is poised to launch the first of its trio of ViaSat-3 satellites – ViaSat-3 Americas – later this year, with commercial service entry planned for early 2023. It expects to launch the second – ViaSat-3 EMEA – about six months later, and ViaSat-3 APAC six months after that.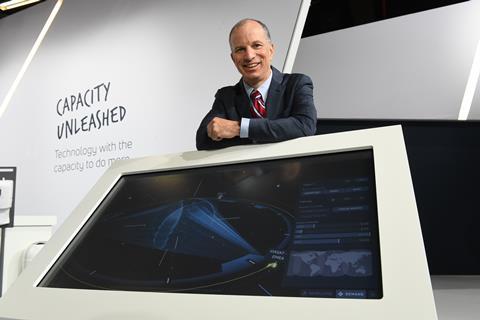 This means that Viasat will be able to offer fully-global Ka-band IFC services to airlines in early 2024, says vice-president commercial mobility Don Buchman. But it does not plan to stop there.
Viasat is already thinking about a ViaSat-4 constellation, which Buchman says would offer even more capacity to meet the ever-increasing passenger appetite for bandwidth.
"There will be more planes, more people, more devices per person," he says. "Everything is bandwidth-intensive. And with Covid, people have become even more digitally native."
The "next step" for IFC will be airlines providing it free-of-charge to passengers on a wider scale, and Viasat is confident its strategy of launching more high-capacity GEO satellites puts it in a strong position to meet the rising demand it expects this to cause.
"One of the reasons airlines hire us is they know we're going to keep up," says Buchman.
Viasat is trialling free access to in-flight Wi-Fi with American Airlines by offering passengers 30min of complimentary connectivity if they watch an advert. Wider adoption of the free Wi-Fi model is a question of when, not if, says Buchman, adding: "The market is going to go free and we need to be ready for that when it happens."
Despite "ferociously" focusing on executing its multi-year geostationary satellite roadmap, Viasat is open to working with operators of satellites in different orbits. While it has filings for its own LEO satellites for potential launch in the second half of this decade, Buchman says that Viasat is "open to working" with suitable LEO partners to move this date forward.
"We're keenly watching what's happening and we will always use what's available on the market," he notes. Viasat says it will "continue to invest in GEO satellites as the foundational technology to solve the toughest challenges to high-quality IFC, including matching capacity supply with demand in certain geographical areas".