ZIM Aircraft Seating is showing a new coach class seat family incorporating a completely new frame and design, as well as new surfaces, foams, and ergonomics.
Each ZIMLITE series S/M/L member offers "a lot of space", according to ZIM chief executive Sven Achilles. "They're also light weight, so the short-haul one weighs 8.5 kg per passenger, the medium-range 9.5 kg and the long-range 10.5 kg," he remarks.
"They're all low frills. For the 'Short' there's simply the seat. The 'Medium' has a high literature pocket and can be integrated with a PED holder and electrical features. Then there's the 'Long' with IFE integrated parts. I'd say it's a very competitive offering that we're launching."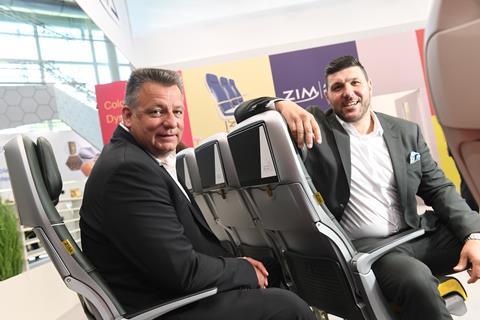 Achilles expects authorisation-to-offer by year-end.
"We're collecting information from customers, then we'll integrate those findings into the seat. We're aiming for aircraft integration by the end of 2025," he adds. "Feedback has included a couple of things that we can enhance. Generally, we expected a 'wow-effect' regarding the geometry, the space and especially the weight. And that's pretty much the feedback we got, so we're right there.
ZIM is also showing a premium economy seat concept. "We're demonstrating that with our technology, we can offer designs that are exclusive and a bit out of the ordinary. It's a seat with an integrated shell, so it doesn't recline into the passenger behind you. You have your privacy and your own real estate," Achilles emphasises.