The full impact of the 737 Max grounding on Boeing's 2019 orders and deliveries came to light on 14 January when the company released final 2019 figures.
Boeing's numbers show that, owing to cancellations and conversions, it ended the year with fewer commercial aircraft in its backlog than at the start.
Its 2019 commercial aircraft deliveries also slid more than half, year-over-year, to 380 aircraft, data released by Boeing on 14 January shows.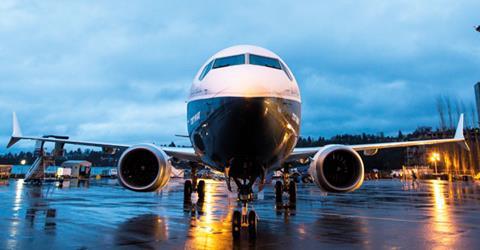 Boeing will release full-year financial results on 29 January, at which point the Max grounding's impact on Boeing's bottom line will become clearer.
US Treasury secretary Steven Mnuchin said on 12 January that Boeing's woes will likely depress total US GDP growth in 2020 by 0.5 percentage points, from 3% to 2.5%.
"There is no question that the Boeing situation is going to slow down the GDP numbers. Boeing is one of the largest exports," Mnuchin told Fox News. "With the 737 Max, I think that could impact GDP as much as 50 basis points this year."
At the end of 2019, Boeing's commercial aircraft backlog stood at 5,406 aircraft, down 38 aircraft from 5,444 at the start of the year.
During the 12 months, Boeing received new orders for 246 aircraft. But cancellations and order conversations left Boeing's net 2019 orders at negative 87, according to the company.
The December order figures, also show the same trend. Boeing landed new orders for three commercial aircraft in December but it received five cancellations, bringing the month's net orders to negative two.
New December orders included those from identified customers for one 787-8 and one 787-9, while customers cancelled orders for three 787-9s and one 787-8. A customer also swapped a 737 Max delivery position, which, in Boeing's books, counts once to both the order and the cancellation tallies.
Boeing's minus 87 net orders for 2019 compares with a whopping 893 new aircraft orders it received in 2018, and 912 received in 2017.
DELIVERIES TUMBLE
Boeing delivered 380 aircraft last year, down 53% from 806 deliveries in 2018, figures show.
Its deliveries included 127 737s, seven 747s, 43 767s, 45 777s and 158 787s, Boeing says.
In December, Boeing delivered 35 aircraft, including six 737NGs, three 767s, five 777s and 21 787s.