Presenting his company's third-quarter results on 29 October, Safran chief executive Olivier Andries uttered a warning that was likely all-too familiar to his fellow aerospace leaders.
The industry's supply chain, said Andries, has become "fragile" over the course of the coronavirus pandemic as rapid and steep production cuts cascaded down from the airframers and tier one suppliers.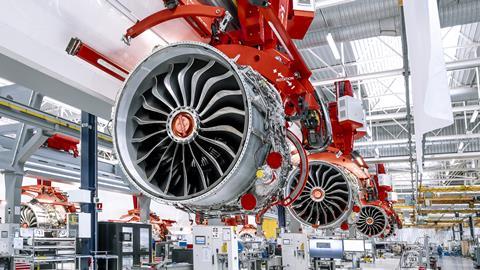 And now the industry is looking to reverse course and increase production again, shortages may hinder that plan. Andries notes "concerns about human resources", which are "even more acute in the USA", alongside "tensions in raw material availability", citing chemicals and metals such as aluminium as particular pinch-points.
"These are specific concerns that we will have to address because they are a challenge for the ramp-up… across the supply chain widely," he says.
While Andries stresses that Safran is managing the situation, his comments, and those from industry peers at Airbus, Boeing, Lockheed Martin, Raytheon and others, represent the first trillings of the sector's alarm bells.
Airbus, for example, has had to postpone the delivery of some aircraft which have been through the assembly line but lack certain components.
"We all observe tension in the supply chain after 15 months of stable rates. We're now in a ramp-up – we see all the difficulties to go from 'hibernation' back to business," says chief executive Guillaume Faury.
On the other side of the Atlantic, low production rates mean the problem has yet to affect Boeing in the same way, but that does not mean it is not a concern.
"By the second half of next year, our industry will be supply constrained," warns Boeing chief executive David Calhoun. "Raw materials, logistics and labour availability will also be key watch items for future rate increases."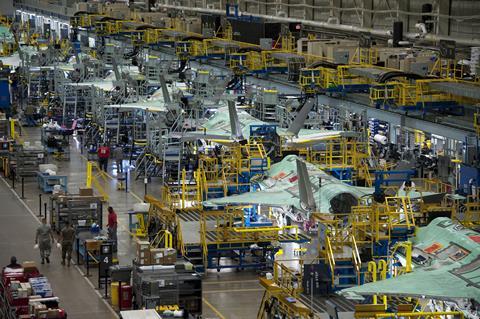 And lest it be seen as a challenge solely for a commercial aerospace industry that rapidly contracted and is now seeking to quickly bounce back, Lockheed too has said it is not immune to supply chain constraints, not least that a swathe of its suppliers are equally exposed to the fortunes of the civil market.
Explaining Lockheed's rapid payment terms – which enhance the cash-flow of its subcontractors - acting chief financial officer John Mollard notes: "We need our supply chain to be successful for us to be successful."
Alex Krutz, managing director of aerospace and defence advisory firm Patriot Industrial Partners, says on the materials side, the supply issues are manifesting themselves in a variety of ways.
On the one hand, there are genuine shortages of metals such as titanium and Inconel – a family of high-temperature alloys – and on the other, there is a lack of capacity for special processes and coatings.
"When Covid struck, a lot of these mills either shut down or allocated their lines to other industrial products that weren't as impacted. To bring those mills and those fabrication lines [back] is slow," says Krutz.
As a result, some aerospace suppliers have had to stretch their lead times. What used to take 24 weeks – from ordering raw materials to delivery of a finished product – might now take 32 weeks.
Exacerbating this situation is the fact that smaller tier three and four supplies – those with annual revenue in the $10-15 million bracket – are no longer there, casualties of the pandemic. Although bigger companies are now seeking new suppliers, that process takes time.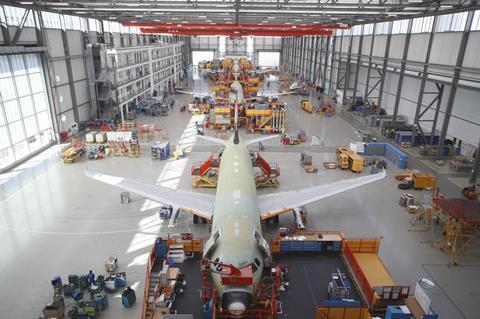 While there may be troubles unique to aerospace, Teal Group analyst Richard Aboulafia points out that many of its problems are "dismally familiar to all sectors of the economy".
He cites a range of causes, from "high levels of demand for most goods, which surprised businesses that were prepared for a downturn and contracted when they should have expanded; infrastructure bottlenecks, container shortages, and of course pandemic-related border closures, and factory closures too."
George Ferguson, senior analyst, aerospace, defence and airlines, at Bloomberg Intelligence, points out that although the challenges the sector is seeing are "not as bad as in other industries", in his view "the big difference is that in the pandemic aerospace was hurt the most and cut production rates way back for many commercial programmes."
Meanwhile, as the industry grapples with parts or materials shortages, it is simultaneously addressing a tightening of the labour market.
"We do hear from the supply chain difficulty in hiring. Employees are getting lured away by higher pay in other sectors or those with less volatility," says Ferguson. However, he stresses that with production rates still well below those seen pre-pandemic "it isn't hurting as much".
Whether that situation develops into a labour crisis though will depend on how the vaccine mandates play out, particularly in the USA where large chunks of the population are opposed to the concept.
Because most aerospace manufacturers are US government contractors, they are subject to the federal requirement that all employees are inoculated against Covid-19 by a deadline of 8 December.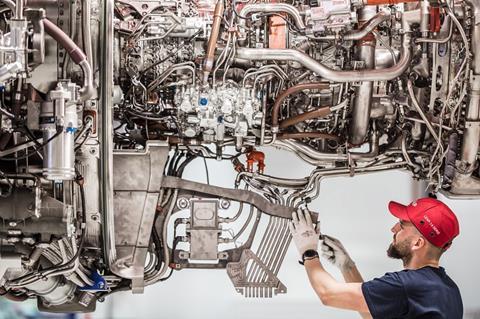 It is unclear whether workers will follow through on threats to leave – or be fired – due to vaccine intransigence, but there is potential for future disruption, at least in the short term.
"We are watching this implementation phase closely to see what will happen," says Ferguson.
The flip side though, is that the aerospace industry's medium-term health is linked to the resumption of widespread travel – something enabled by a global population that has been inoculated against Covid.
However, one likely consequence of labour shortages is wage inflation. Skilled engineers and manufacturing workers are in short supply and the defence aerospace segment, which has a different pricing model to civil aerospace, can afford to hoover up talent as required, notes Aboulafia. This has the overall effect of pushing up wages, he argues, which will eventually be a drag on financial performance.
"In time the higher wages will filter through financial statements and hurt margins," adds Ferguson.
In a year's time, the industry may have returned to a more stable footing as the global economy rebalances itself. But given the shocks of the last 18 months, there is ample room for further missteps along the way.
Additional reporting by Jon Hemmerdinger in Tampa