The Aerospace Industries Association (AIA) has committed to reducing its greenhouse gas footprint following an IATA resolution approved earlier in the day.
The trade association representing more than 320 manufacturers and suppliers in the aviation, aerospace and defence industries, says on 4 October it will work to achieve net-zero carbon emissions by 2050.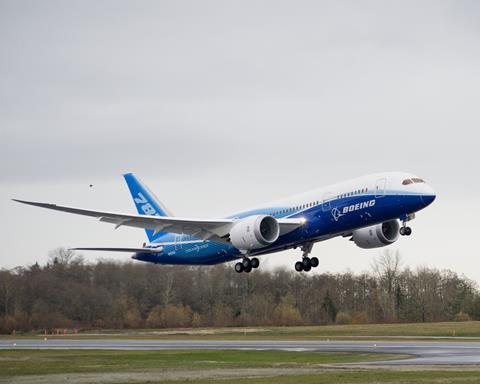 "Innovation is at the heart of what we do as an industry and what will enable a more-sustainable aviation future," says AIA president Eric Fanning. "While strong progress has been made in the energy efficiency of aircraft, we have the opportunity now to make investments in next-generation technology that will propel the industry into a brighter, greener future."
"Committing to net-zero carbon emissions by 2050 isn't just a pledge to secure a more-sustainable aviation ecosystem, it is a testament to the confidence we have in our industry's ability to innovate," Fanning adds.
Earlier in the day, the members of IATA committed to reaching the net-zero CO2 emissions target resolution agreed at the association's Annual General Meeting in Boston today.
The commitment reflects one already targeted by many – but not all – airlines under their own initiative in recent months and years.
"As commercial aviation activities continue to expand and novel aircraft take to the skies, the need for more-sustainable processes becomes more pressing," AIA says. Technological advances in sustainable aviation fuel, hybrid-electric propulsion systems, and advanced aircraft development are propelling the industry forward.