Malaysia's AirAsia Group has established Asia Digital Engineering (ADE), a wholly owned subsidiary "to consolidate engineering personnel across AirAsia's group airlines".
The entity has obtained approval from the Civil Aviation Authority of Malaysia (CAAM) to start operations from 9 September.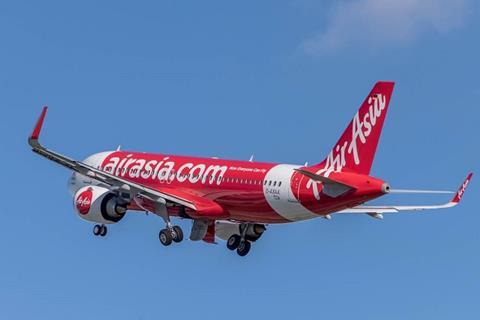 Mahesh Kumar Jaya Kumar, AirAsia's head of fleet and technical asset management, has been appointed chief executive of ADE. He was previously senior vice-president, technical for Asia Aviation Capital, an indirect wholly owned subsidiary of the group.
"ADE, with the manpower of [AirAsia Group's] engineering department, will operate as a centralised and independent MRO unit to service all of AirAsia's group airlines and third-party airlines in the region focusing on key services such as line maintenance, workshop, engineering support, component and warehouse as well as digital and innovation," the company said in a disclosure to Bursa Malaysia, dated 9 September.
It adds that the entity will leverage technology and other digital trends to reduce maintenance costs, increase productivity and efficiency, while maintaining a high level of safety, quality and airworthiness of the fleet.
"ADE will be an avenue to earn additional income which will contribute to the overall increase in revenue for AirAsia."
AirAsia states without elaborating: "The establishment of ADE is not subject to the approval of shareholders of the company."
In a separate same-day statement, AirAsia Group indicates that ADE will be based at its global headquarters in Sepang, Malaysia, and targets to reduce the group's maintenance costs by 10%.
ADE expands AirAsia Group's expertise in aircraft engineering, says chief executive Tony Fernandes.
"This new business division provides numerous efficiencies and will leverage off our combined 19 years of experience in operating and maintaining a large fleet of over 250 Airbus A320 and A330 family aircraft."
In the same statement, Malaysia's transport minister Wee Ka Siong says: "The formation of ADE as a regional MRO service provider by AirAsia bodes well with [Malaysia's] national transport policy, as the government seeks to facilitate the growth of all aviation support services to enhance Malaysia's competitiveness in air cargo operation."
ADE chief executive Mahesh Kumar says, "We would like to thank CAAM and other relevant authorities for believing in us as we push the envelope in all areas of commercial aviation, which includes air transport services, passenger services, and now, MRO services for airlines."