Seattle's tumultuous 2019 has seen it slip behind its European rival in our latest annual Top 100 rankings
Airbus has ousted Boeing as aerospace's biggest business after a year in which the 737 Max crisis led to the US manufacturer's revenues plunging by a quarter.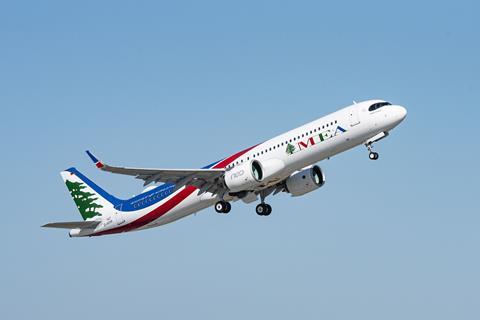 FlightGlobal's latest Top 100, based on 2019/20 financial year figures, before the onset of the coronavirus pandemic, show Boeing's annual sales at $76 billion, down from $101 billion the previous year.
Airbus's turnover rose from $75.1 billion in 2018 to $78.9 billion, allowing the European company to take top spot in the annual ranking for the first time in over a decade.
Boeing also slid deeply into the red, with operating losses of almost $2 billion, compared with profits of around $12 billion in 2018. Airbus's operating profits also fell from around $6 billion in 2018 to $1.5 billion in the latest financial year.
Even though the vast majority of Top 100 companies had a positive bottom line, the squeeze felt by the big two meant profit growth as a whole was in negative territory, down 11.1% compared with a rise of 20.6% the previous year. Average operating margins dropped from 11.3% to 9.4%.
With Top 100 revenues up 3.5% against 8.2% in 2018, it suggests that the industry was heading into a slower growth phase even before the pandemic hit. That said, the biggest aerospace companies continued to grow faster than the world economy – global GDP increased by 2.9% in 2019 – as they have for many years.
Consolidation has brought other changes to the Top 100 with the merged United Technologies and Rockwell Collins ranked fourth in terms of size. The further coming together of United Technologies' aerospace businesses and Raytheon, completed earlier this year, should see the combined business overtake third-placed Lockheed Martin in next year's survey.
Meanwhile, the new L3Harris – created from L-3 and Harris – broke into the top 10 at number nine.
Top 5 aerospace companies by revenue 2019 ($ millions)
Rank
Company name
Movement in ranking from 2018
Sales (revenue) 2019
Sales (revenue) 2018
Operating profit 2019
Operating profit 2018
Operating margin 2019
Operating margin 2018
1
Airbus
1
78,900
75,100
1,500
5,960
1.9%
7.9%
2
Boeing
-1
76,600
101,000
-1,980
12,000
-2.6%
11.9%
3
Lockheed Martin
0
59,800
53,800
8,550
7,340
14.3%
14.3%
4
United Technologies
0
46,900
36,000
5,770
3,570
12.3%
9.9%
5
Northrop Grumman
1
33,800
30,100
3,970
3,780
11.7%
12.6%
Read the full Top 100 report and analysis now
Top 100 aerospace companies ranked by revenue
1

2

3

4

5

6

Currently reading

Airbus displaces Boeing as aerospace's biggest company