An alleged Chinese spy has been sentenced to 20 years in US prison for attempting to steal GE Aerospace trade secrets related to composite materials.
The US Department of Justice (DOJ) says Chinese national Yanjun Xu was charged on 16 November in US District Court for the Southern District of Ohio.
"According to court documents, Xu targeted American aviation companies, recruited employees to travel to China and solicited their proprietary information, all on behalf of the government of the People's Republic of China," the DOJ says.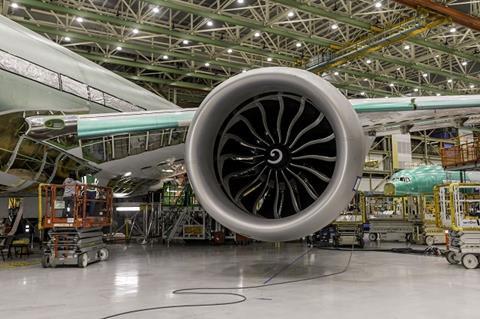 The sentencing follows Xu's conviction in November 2021 on charges related to alleged economic espionage, including conspiring and attempting to steal trade secrets.
"Xu attempted to steal technology related to GE Aviation's exclusive composite aircraft engine fan module – which no other company in the world has been able to duplicate – to benefit the Chinese state," the DOJ says.
"Intellectual property is among our most-valued assets, and we appreciate the Department of Justice's efforts in pursuing this case," says GE. The company this year changed the name of its aircraft engine business from GE Aviation to GE Aerospace. It is a leader in developing composite materials for use in turbofan aircraft engines.
Xu "was a career intelligence officer" who rose to be deputy division director at China's Ministry of State Security, the DOJ says. Since at least December 2013, Xu had been seeking to secure trade secrets from aviation companies in the USA and elsewhere.
"The scheme was executed with full coordination between the [Ministry of State Security] and China's aviation entities," the DOJ adds. "He identified individuals who worked for the companies and recruited them to travel to China, often initially under the guise that they were travelling to give a presentation at a university."
In 2017, a GE Aerospace employee met Xu while in China, where the worker had been invited to give such a presentation. While there, Xu asked the GE Aerospace employee for "system specification" and "design process" information, according to the DOJ.
Working with the FBI, GE Aerospace sent the materials to Xu. In 2018, Xu was arrested in Belgium after travelling there for the purpose of meeting the GE Aerospace worker. He was extradited to the USA.