"Ampaire has been under the umbrella of news for other companies for the last year and a half, but as a standalone entity, as an organisation, Ampaire has been doing tremendous things, and I'd like to have the world see and acknowledge them," says the firm's co-founder and chief executive Kevin Noertker.
He is not specifically referring to the now-abandoned acquisition of the California-based company by online booking platform Surf Air Mobility, although that clearly colours his outlook. Instead, he is justifying why Ampaire has not followed the path trodden by other similar start-ups and attempted to grab the headlines with details of blockbuster customer orders.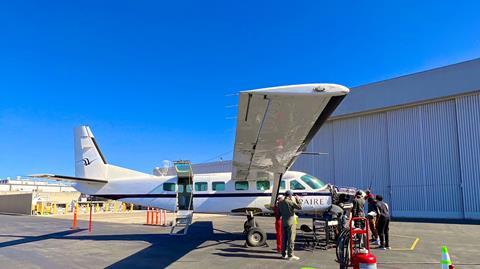 That is not due to a lack of commitments, he insists, simply that the company would rather attention was instead focussed on product development.
"Even though we do have large orders, we do have a great supply chain and we do have OEM relationships, the news today is about Ampaire's competency as an organisation. Today is about showing the world the progress we've made through our own volition," he says.
At present, that progress is the development of a hybrid-electric powertrain for the Cessna Grand Caravan, a modification Ampaire refers to as the Eco Caravan.
Ground runs of the system have begun and Ampaire is hopeful that a first flight will follow in the second half of the year, eventually leading to a supplemental type certificate (STC) and service entry for the upgrade in 2024.
Ampaire had been eyeing the Cessna platform virtually since its founding in 2017, says Noertker, considering it as a "really ideal launch product" for "electrified upgraded planes in this category".
Detailed analysis of potential powertrain solutions for the modification culminated in the fourth quarter of 2021, leading to the selection of a parallel, rather than series, hybrid-electric system.
Noertker says the upgrade will have a "transformative impact on [aircraft] operation, both economically and environmentally".
Operators flying short-hop routes – like Scottish regional carrier Loganair, which last year trialled Ampaire's Cessna Skymaster-based Electric EEL demonstrator – could see fuel savings of around 70%, he says, based on the batteries providing more of the power during the intensive take-off and climb phases. Those performing longer flights where the aircraft is at a cruising altitude, those between 50-250 miles (80-400km), for example, could see savings of around 50% across a month of flying.
But because of the parallel hybrid architecture, recharging the aircraft's batteries should not be required after each flight; Noertker says this feature – he calls the design "plug-in optional" – means Ampaire has "broken the chicken and the egg cycle of whether the vehicles come first, or the infrastructure for the charging comes first".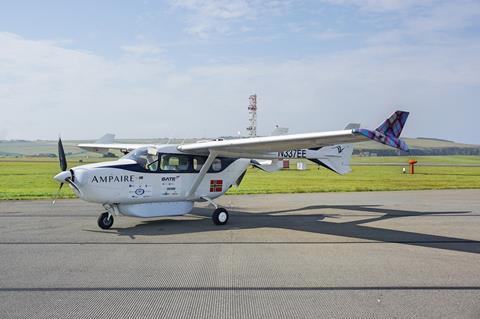 This should ensure that any aircraft converted to run on Ampaire's hybrid-electric system can access "every single airport that's available" without having to worry about turnaround times or ground infrastructure, he says.
"And then as you prove the market, as operators fly these routes and they really see the benefit and they see the frequency of operation, then we will roll out the charging infrastructure alongside those planes in those places that need it most."
This should mean "seamless integration with existing fleet operations", encouraging the "rapid adoption and scale of the industry".
Although the Ampaire powertrain will be available to existing Grand Caravan operators as a retrofit solution, the now collapsed agreement with Surf Air had promised something more. In the months after the February 2021 announcement that it was acquiring Ampaire, Surf Air struck a deal with Cessna owner Textron Aviation to form an "exclusive relationship" to electrify the Grand Caravan, on top of which it would purchase up to 150 examples of the aircraft for conversion with its – for which, read Ampaire's – "proprietary hybrid-electric powertrain technology".
Noertker says that although it "makes sense to work with the OEMs directly to have a line-fit variant of their vehicles", securing an STC and proving the market through conversions for the existing operator base is a vital first step; he calls it a "crawl-before-you-walk-type approach".
Ampaire has had conversations with multiple OEMs and type certificate holders regarding line-fit solutions, he says, "but the reality is it all needs to be proven in the STC, the retrofit, first".
And while the powertrain itself is a vital part of the jigsaw, Noertker argues that a company's skill at integration and optimisation will be the differentiator.
"We believe in the long run that the next Boeing has been born from the companies that are best in class at integrating new propulsion technologies.
"This opportunity is not to be just the propulsion maker, but by being the best at the architecture, the development, the certification and the integration of those systems at an energy-optimised level for the aircraft," he says.
Ampaire's current focus is clearly on bringing the Eco Caravan modification to market, but it is already considering the next project, covering "19-passenger and larger type planes, all the way up through ATR".
Most visibly the company has highlighted the potential to convert the De Havilland Canada DHC-6 Twin Otter; Ampaire's website refers to the project as the Eco Otter SX, with images showing a distributed propulsion system using four motors rather than the standard twin-turboprop configuration.

Although that particular design was born out of a NASA-backed project to explore the scale-up of the system, Noertker adds: "We certainly believe that the Eco Otter is going to be a tremendous product and it is in our roadmap."
He sees the potential for it to arrive in 2025 or 2026, based on the maturity of Ampaire's underling technologies. But further out, "working with other OEMs we anticipate having even more product models coming out this decade".
Noertker declines to go into detail, but says its small UK operation is already "working on other aircraft types".
No decisions have been taken on the exact architecture for any future conversions, he says; any eventual solution will be driven by the aircraft and its intended mission profile. For instance, certain types might see a sufficiently large performance gain to justify the cost and complexity of a more radical approach. "It's not the same as dropping it right into the nose [like the Eco Caravan] but it's also not out of the ordinary to look at rewinging or fresh winging a plane," he says.
But it will hinge on what the market wants, and when. "Because if you just went with what the market gets excited about we'd all have 2035, 2040-type visionary future planes that never came to market.
"So you have to be faster than that. And there are times when you do end up trading in order to be pragmatic."
Although Ampaire has not revealed any orders to date, Noertker says that it has several "LoIs, framework purchase agreements, with both established and emerging airlines" from multiple continents.
These mostly cover the Eco Caravan but Noertker says "there is significant interest in larger planes as well", going from "19-seats and up".
"We are building scalable technology… that goes all the way to the [De Havilland Canada] Dash 8, ATR, these types of aircraft". And unlike conversion projects for those aircraft based around hydrogen fuel cells, such as those proposed by Universal Hydrogen and ZeroAvia, "it's one that doesn't require us to completely transform our energy economy".
Ultimately, Ampaire will consider its own clean-sheet aircraft, says Noertker. It is already part of another NASA research project to perform windtunnel tests of a boundary layer ingested ducted fan design, which could eventually equip a future aircraft. Renderings of a model called the "Tailwind" on Ampaire's website feature such an architecture.
"These types of integrations are very interesting when you start scaling up to the higher-performance, higher-power-type vehicles. And that's exactly where we anticipate our systems going: they're turning propellers today, but what could they turn tomorrow?"
But for all that, Noertker insists the company remains firmly grounded in the present: "We don't talk too much publicly about those futuristic programmes because Ampaire, at our core, it's about what we are doing today," he says.