ANA Holdings plans to enter the space launch business through a tie up with Virgin Orbit, which has developed the capability to launch its LauncherOne rocket from a 747-400.
The memorandum of understanding (MOU) between the two companies will see ANA Holdings procure twenty flights of the LauncherOne rocket, says the parent of All Nippon Airways.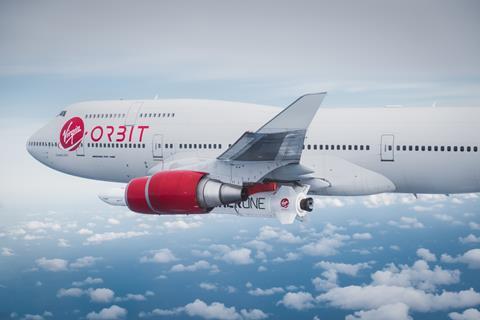 This will see ANA Holdings become a distributor for Virgin Orbit. Under the MOU, ANA Holdings and its partners will build the ground support system in Oita prefecture, enabling the deployment of LauncherOne and its 747-400 mothership from an existing runway.
The goal is to make Oita a LauncherOne-ready spaceport by the end of 2022.
"Japan's impressive aerospace industry has long been at the forefront of satellite technology innovation," says ANA Holdings.
"However, the available launch services in Japan – and throughout all of Asia – have always been launched from fixed sites on the ground. Supported by ANA's premier logistics and transport services, Virgin Orbit is set to change that by bringing air-launch to the Eastern Hemisphere for the first time in history."
Air launching rockets reduces the impact of weather on launches, and allows a launch to be conducted from the optimal location for a desired orbit.
ANA Holdings notes that the number of space start-ups in Japan has grown since 2015, with both the government and private sector accelerating investment in space.
Virgin Orbit uses a fifth pylon on the 747's wing to deploy LauncherOne. The original 747 design made accommodation for the pylon in order to ferry spare engines.
In July, Korean Air announced that the Republic of Korea Air Force and Seoul National University had commissioned it to research the use of a 747-400 as a space launch asset.
Separately, ANA Holdings announced that it worked with a group of Japanese companies to demonstrate the use of drones to deliver pharmaceuticals in remote areas. The focus of the pilot project was UAS (unmanned aircraft system) traffic management.