All Nippon Airways (ANA) Holdings will work with German firm Wingcopter to research and develop drone delivery infrastructure, particularly for medical supplies and consumer products.
The two companies are in the process of conducting trials on drone delivery using Wingcopter-developed electric vertical take-off and landing (eVTOL) aircraft. The aim, says ANA Holdings, is to build a drone delivery network "capable of serving needs across Japan".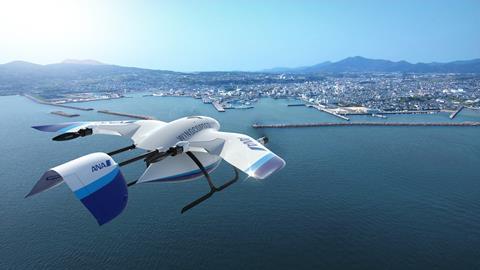 ANA Holdings will provide "insights gained from decades of aviation experience", while Wingcopter will provide training, maintenance and planning support for the trials.
The first phase of tests concluded in March, and involved medical supplies deliveries between Fukuejma and Hisakajma in Goto city, located in Nagasaki prefecture.
"The flights demonstrated the viability of drone delivery for medical supplies, dramatically reducing patients' waiting times. In this remote region of Japan, it is difficult to quickly transport medical supplies due to poor infrastructure," both companies state in a joint media release.
ANA Holdings adds: "The ongoing trials will help ANA Holdings determine which aircraft are suited to operate best in each region of the country, evaluating local weather conditions and demand for drone delivery, as it establishes a series of hubs along the transportation network."
The latest collaboration builds on a multi-year partnership both ANA Holdings and Wingcopter — a drone manufacturer — have had.
Drone delivery trials have been conducted in Japan since 2018, and the first Wingcopter trial flight took off in 2019.
ANA Holdings has set a target to fully commercialise drone delivery services by 2022.
The company joins compatriot Japan Airlines in tapping into opportunities in the eVTOL sector. JAL, on its part, has been involved in various collaborations and initiatives in the urban air mobility sector, partnering with major players such as Bell.