Four air navigation services providers (ANSPs) have conducted the world's first multi-regional, trajectory-based operations (TBOs) with the Boeing 787-10 ecoDemonstrator Explorer aircraft.
The project saw the aircraft fly from Seattle to Tokyo on 11 June, from Tokyo to Singapore on 13 June, and Singapore-Bangkok on 14 June, according to the Civil Aviation Authority of Singapore (CAAS). From Bangkok it will return to Seattle.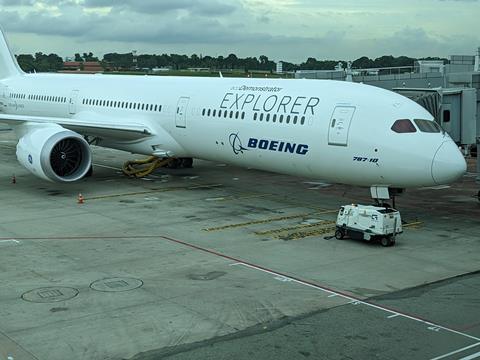 CAAS, along with its Japan, Thailand, and USA counterparts are behind the project in cooperation with Boeing.
"The demonstration flight is part of a three-year collaboration programme aimed at improving flight efficiencies and reducing carbon emissions, with the potential of cutting an aircraft's fuel burn by up to 10%," says CAAS.
"When flying through multiple Flight Information Regions, ANSPs tend to act separately and independently. Under a TBO concept, ANSPs actively share information relevant to a flight such as weather, airspace closures, and other traffic.
The flights aim to validate lab work that was concluded in May 2022.
TBO has the potential to give pilots and other stakeholders, such as an airline's dispatch team, far more situational awareness about conditions that could affect a flight's routing, and provides ample time to request adjustments to improve efficiency and speed.
The CAAS held an event at Changi Airport to highlight the potential of TBO. The four ANSPs and Boeing also have a joint declaration to promote TBO globally.
Han Kok Juan, director general of the CAAS, observes that sustainable aviation fuel is seen as the key factor in reducing aircraft emissions, but stresses that sustainable air traffic management will also play a role.
"The amount of carbon emitted from a flight is a function, not just of the type of fuel it burns, but also of the route it takes," he says.
"If an aircraft can take a more direct and quicker route and avoid delays and detours, not only do passengers benefit by getting to their destinations faster, but airlines can also save on operating costs, and we can cut fuel burn, in turn helping the environment."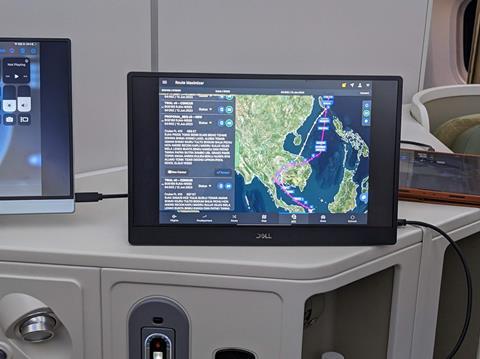 CAAS notes that the equipment required for TBO is largely in place aboard aircraft, and that implementation is mainly a matter of changing existing air traffic control practices. The Boeing crew showed how TBO is applied through hand-held tablet computers, specifically those used for digital flight bags.
Speaking on the flight deck of the 787-10, N8290V, Boeing chief pilot for product development Kirk Vining said that TBO helps pilots make early decisions about their routing, and place timely requests with air traffic controllers. Routing requests are conveyed electronically as opposed by radio, and the crew can monitor the status of requests.
"Before TBO, when I make a request to air traffic control, I don't really know if it's going to be accepted right away, and a request I might make to optimise my flight might actually be disruptive to the rest of the system," says Vining.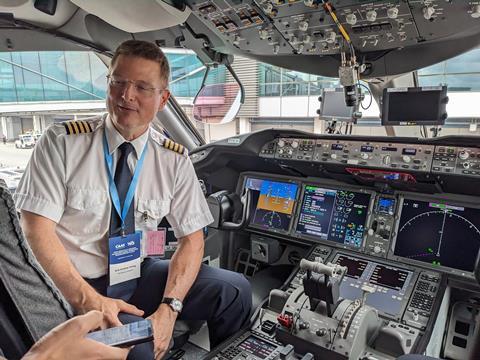 "With TBO, I can watch as that request is being processed, and the air traffic controller can make a trial request. Collaboratively, we can see how that change might affect the whole system. As a pilot, I have more awareness about how the change will affect not only my flight, but other flights. I also have more assurance that the request will be granted."
Vining adds that the system is not only useful for route changes, but can also reflect issues on the ground, such as the unavailability of a gate for arrival.
"Instead of just receiving a request to change my speed, I could see what is happening in real time as different stakeholders collaborate to make a decision for the overall efficiency of the airplane."