US electric vertical take-off and landing (eVTOL) vehicle developer Archer Aviation has struck a deal with the Abu Dhabi Investment Office (ADIO) to establish air taxi operations in Abu Dhabi during 2026.
The deal would make Abu Dhabi Archer's first international launch partner and ADIO will support the manufacturer with incentives to set up its first international headquarters and manufacturing facilities within the emirate's smart and autonomous vehicle cluster.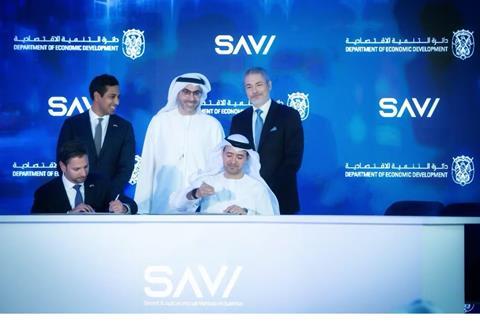 Archer Aviation's founder and chief executive Adam Goldstein says: "We are excited to announce this joint collaboration for the United Arab Emirates to become our first international market outside of the United States. Archer plans to partner closely with ADIO and the Department of Economic Development to bring manufacturing and operations for our air taxis to the region."
ADIO acting director general Badr Al-Olama says: "Bringing electric aviation to the UAE will help unlock congestion with zero emissions and, in turn, bring millions in foreign direct investment and thousands of jobs to the region over the next decade."
California-based Archer is closing in on the first flight of its Midnight aircraft and is targeting certification and launch of services in the USA in 2025.
Director general of the UAE General Civil Aviation Authority (GCAA) Saif Mohammed Al Suwaidi says: "Our goal is to approve Archer's air taxi to fly in the UAE as soon as it is certified by the FAA [Federal Aviation Administration], and we are very excited to collaborate with them to bring electric air taxis to the country."
Archer is working with a number of industry partners across the UAE to support its plans to commercialise operations in the UAE by 2026. That includes Falcon Aviation, with whom it has signed an MOU to operate its air taxis across Dubai and Abu Dhabi, as well as GAL-AMMROC who will provide MRO support for Archer's eVTOL aircraft.
Archer has raised over $1.1 billion of funding to date, including from Abu Dhabi investment firm Mubadala Capital, as well as United Airlines, Stellantis, and Boeing.