Archer Aviation's Midnight aircraft has hovered off the ground, a milestone in the company's progress toward certification and commercialisation of its air taxi design.
The San Jose-based start-up did not disclose when Midnight's first flight occurred or how long it was airborne.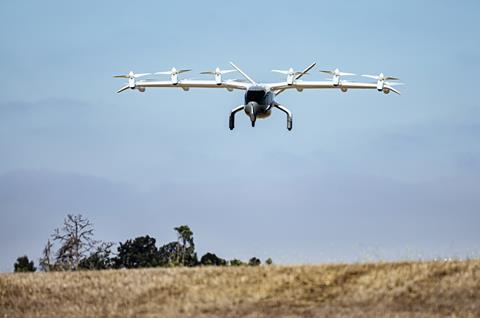 The developer said on 25 October that Midnight is expected to progress from hover to wing-borne flight within the next few months, "paving the way for the company to begin for-credit testing of its Midnight aircraft with the FAA next year".
The 12-rotor Midnight aircraft has six tilt rotors for transitioning to forward flight.
"This next phase of Archer's flight test programme is only possible because of the four years of flight-testing we've done," says chief executive Adam Goldstein. "Midnight is building on the successes of its predecessor aircraft and represents another significant step forward in Archer's path to commercialisation."
The company is racing competitor and fellow Bay Area start-up Joby Aviation to become the first air taxi developer to launch passenger-carrying revenue flights in the USA. Earlier this month, Joby said it had begun flying its pre-production prototype aircraft with a pilot on board.
Archer says it will continue flight-testing its previous-generation prototype, Maker – which it has been flying for the past two years – and flying simulated commercial routes to "continue to advance the company's operational readiness".
"The next year and a half will be focused on continuing to rapidly advance our flight test programme and Archer's electric air taxi operations as we prepare to bring Midnight to market in 2025," Goldstein says.
The all-electric Midnight air taxi is designed to carry one pilot and four passengers, and will be optimised for quick turnaround operations and flights of 10-20min.