Asia Digital Engineering (ADE) has secured $100 million funding from investment firm OCP Asia, which will go towards the expansion of hangar space in Kuala Lumpur in what it calls "the next phase of growth".
In a statement issued 26 April, ADE, the MRO unit of Malaysia-based Capital A, says the investment will also be used for "further business expansion" in other geographical markets and business segments.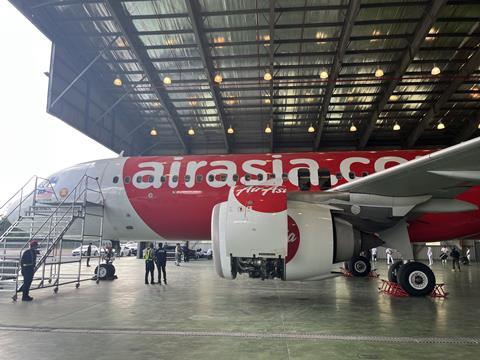 The company is in the process of building up a 14-line hangar at Kuala Lumpur international airport, which it hopes will be operational by 2024. Once open, the new facility will provide a significant boost to the company's MRO capacity.
ADE adds that the latest fundraising demonstrates "the company's commitment to achieving long-term growth and success"
"During its capital raising exercise, ADE has received strong interest from numerous global investment funds, who have seen the recovery potential of the regional and global airline industry," says Tony Fernandes, CEO of parent company Capital A, which also owns the AirAsia group of carriers.
ADE chief Mahesh Kumar, meanwhile, adds: "The investment from OCP Asia will enable us to construct a new, state-of-the-art 14-line aircraft maintenance hangar facility … in addition to existing facilities at our core AirAsia operating hubs, making ADE one of the largest aircraft MRO service providers in the region."
Mahesh previously told FlightGlobal that the MRO provider hopes to expand its line maintenance presence in other Southeast Asian countries, particularly those that AirAsia units operate from.
The latest announcement follows the opening of a base maintenance facility in at Senai airport in the southern Malaysian state of Johor in January.