Asia Digital Engineering (ADE) will expand its line maintenance in the region in the new year, as it looks to continue its profitability streak.
ADE chief Mahesh Kumar says a "target" in 2023 will be to build up line maintenance operations in Southeast Asian countries where AirAsia Aviation has units, including Indonesia, the Philippines and Thailand. ADE is the Malaysia-based MRO unit of AirAsia Aviation parent Capital A.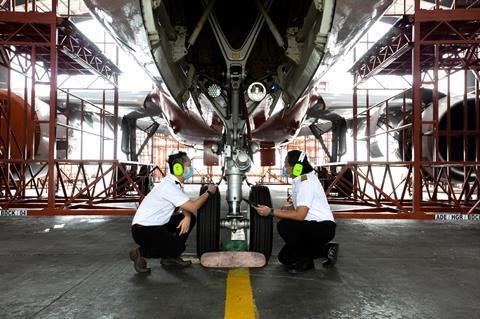 Mahesh was speaking to FlightGlobal following the opening of ADE's new hangar facility in Senai airport in the southern Malaysian state of Johor.
ADE has line maintenance operations in several major Malaysian airports, including at Senai, Penang, Kuala Lumpur, as well as in Kuching and Kota Kinabalu in east Malaysia.
The company has received approvals for MRO work from regulators in countries such as Singapore, Thailand, Indonesia, India as well as Nepal. It is working to gain approvals from Thai regulators, a key market given that AirAsia Aviation has a Thai unit.
While line maintenance grow will be an immediate priority in the year, Mahesh points out that the MRO remains committed to expanding its base maintenance capabilities.
He notes, however, that to grow such operations will require hangar space, either by building its own or leasing from airport operators. It will also take time.
Mahesh tells FlightGlobal that the MRO company is "looking to remain profitable" this year. While Capital A financial results for 2022 have not been released, ADE posted a positive EBITDA of MYR13.2 million ($3 million) in the year to 31 December 2021.