The UK government has guaranteed funding for the Aerospace Technology Institute (ATI) for the next decade but has yet to specify how much money it will provide.
Detailing its plan in the comprehensive spending review, released alongside the autumn budget on 27 October, the Treasury says it is "extending its long-term commitment to the aerospace sector, guaranteeing funding for the ATI to 2031". Funding was previously due to expire in 2026.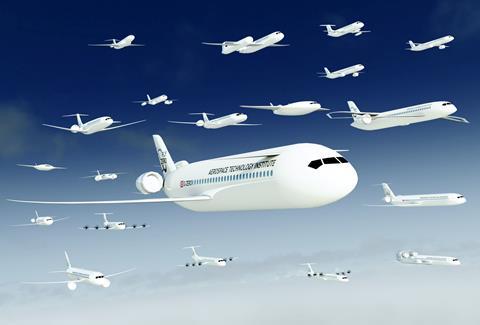 However, there is no detail on how much money will be provided. When it launched in 2016, the ATI – which is co-funded by industry – had a budget of £3.9 billion ($5.35 billion).
To date, the ATI says the total industry-matched value of the programme is £3.2 billion, with 343 projects in its portfolio.
But in April this year it suspended new applications to the programme, noting that "we have no scope to commit to new projects this financial year". That application freeze is likely to last until at least until April 2022, it says.
In a 20 October blog post, Scott Pendry, the ATI's head of international R&D and policy engagement, pointed out that "competitors" France and Germany have already set out "high-level ambitions" in relation to low-carbon aviation "with funding to match".
As such "a step change in the scale of operations is required in order to position the UK as a global centre of excellence for sustainable flight and new mobility markets.
"Continued government investment through the ATI, match funded by industry, will ensure that the UK can lead the transformation to sustainable air transport and maintain its leadership well into the future," he says.
Welcoming the announcement, aerospace industry body ADS says the funding extension "recognises the need for long-term partnership to achieve our net-zero goals and make the UK a global leader in green aerospace technology.
"Support for cutting edge aerospace innovation will sustain jobs, level up opportunities in every part of the country, and help to secure billions of pounds in industry investment."
However, it calls for "early clarity" on a funding level "that matches industry ambitions here in the UK to deliver net-zero aviation".
Budget documents indicate that Innovate UK, which distributes the grant funding to the ATI and other schemes, will have a budget of £700 million in 2021-22 and 2022-23 financial years, rising to £800 million in 2023-24, and £1.1 billion in 2024-25.