ATR's new chief executive admits the manufacturer's 25 deliveries and 26 orders in 2022 were "below where we wanted to be", but promises a return to annual production of more than 80 aircraft "by the second half of the decade".
Nathalie Tarnaud Laude, who took over at the Airbus/Leonardo joint venture last October, blames labour shortages, supply chain snags, and long-lasting Covid-19 travel restrictions in its core Asia-Pacific market for the turboprop manufacturer's sluggish rebound from the pandemic.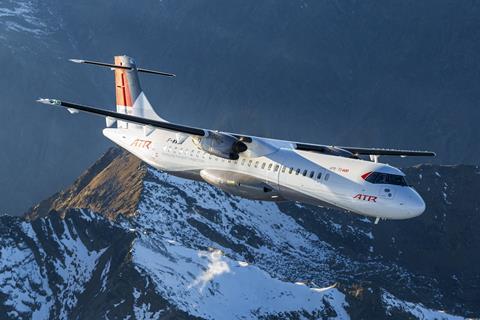 The Toulouse-based airframer was consistently delivering at least 80 aircraft throughout much of last decade, but its output has been dropping since 2017, falling to just 10 in pandemic-hit 2020.
A year ago, then-chief executive Stefano Bortoli was hailing 2021's 31 deliveries as a step towards recovery, and predicting shipments in the "mid- to high 30s" in 2022.
Speaking to FlightGlobal, Laude says ATR is "close to break even and is generating cash again", while its support and services business has enjoyed a record year in revenue terms. She points to the fact that 85% of ATR's global fleet – close to 1,200 aircraft – were back in service last year, and that ATR has a "solid" 160-strong backlog.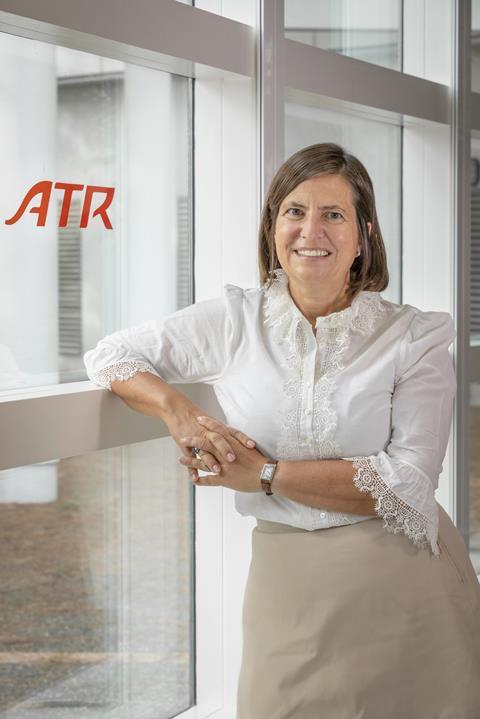 Gross orders fell from 35 in 2021. Laude says a lack of Chinese travellers in Asia-Pacific, which has traditionally made up almost half of ATR orders, together with inflationary pressures that have made "customers quite cautious", contributed to the slump in demand.
A glut of used ATRs – which some airlines were buying instead of new aircraft – was also a factor, but Laude, who formerly ran helicopter joint venture NH Industries, says most of these are now off the market.
She welcomes as an "important step" China's decision to certificate the ATR 42-600, and says ATR will now have "to work to really turn that to orders". ATR has forecast a market for 280 new turboprops in the country over the next 20 years.
ATR recorded record annual deliveries of 88 aircraft in 2015, and 80 shipments in the following two years. Laude says the company must be "honest with ourselves" about the likelihood of returning to those levels of production, committing only to achieve it by the end of the decade.
As with other manufacturers, shortages and delays of raw materials and components have hit ATR in the past year, and Laude admits: "We are still struggling." She says it is likely problems will persist into 2024, although the company is "working hand in hand with suppliers" to minimise disruption.
ATR is "progressing" with its flight-test programme for a short take-off and landing (STOL) version of the ATR 42-600 after flying the variant for the first time in May last year. The company, which is targeting certification in "late 2024 or early 2025", has 21 orders for the -600S and "we plan to acquire more in 2023", says Laude.
An "initial flight-test phase" of about 80h, intended to test the STOL systems, will end this month, after which ATR will fit a larger rudder, which Leonardo is manufacturing in Foggia, Italy, and perform ground tests. A final, 400h certification campaign will begin in the final quarter.
ATR says the objective of the tests is to validate the handling characteristics of the aircraft, fine-tune avionics and cockpit alerting systems, and demonstrate the enhanced take-off and landing performance on short airfields. So far, says the manufacturer, "aircraft performance is in line with our expectations".
Laude says ATR has been making strides on the environmental front, performing in 2022 the first commercial aircraft flight powered by 100% sustainable aviation fuel, and gaining European approval for ATR 42-500 and 72-600 twin-turboprops powered by the upgraded Pratt & Whitney Canada PW127XT-M engine, which the engine maker claims cut fuel consumption by 3%.
ATR shareholders Airbus and Leonardo are also conducting a feasibility study into the possible launch of the Evo, a hybrid-electric variant of its turboprop family, which could enter production by the end of the decade.
Laude says "the concept makes a lot of sense in terms of technology, but it also has to make sense from an economic and market standpoint". ATR and its owners expect to take a launch decision in 2024.
She welcomes the emergence of possible new competitors in the turboprop sector – including Embraer and a flurry of start-ups developing their own hydrogen-, hybrid- or full-electric platforms – saying they are "an endorsement of the value proposition of turboprop technology to improve efficiency and reduce CO2".
Last year, ATR's 20 year market forecast estimated demand for 2,450 turboprops, boosted by a need for new regional connections and lower-emission operations.