ATR is launching a series of upmarket cabin concepts, dubbed HighLine, which it hopes will open new markets for its regional turboprop types.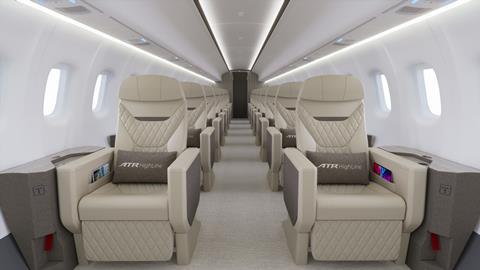 The Toulouse-based airframer unveiled the interior designs – which include all-business class and "multi-section" configurations, the latter aimed at government customers – at AIX in Hamburg.
ATR has dabbled in the VIP, head of state and Part 135 segments in the past, but this is the first time it has seriously addressed this market, says business development manager Louis Barral. "Before we responded to specific requests case by case, but now customers, including the [charter] community, are approaching us directly – the fuel price is a huge issue," he says.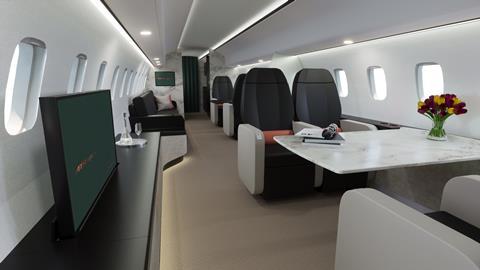 Although ATR has not yet secured any customers, Barral says the company is close to signing a deal for an all-business class variant, and has "a lot of interest" in the other versions.
While Barral admits high-end versions of the ATR 72-600 and 42-600 do not have the performance capabilities of business jets, he says the cabin dimensions are similar, and many private aviation missions do not require the range or speed of purpose-built business jets.
"Around 50% of flights by large business jets are under an hour," he adds.
The five concepts from ATR for the ATR 72-600 are:
Multi-Class, a 50-seat interior with a dedicated first class cabin;
Premium-Flex, which allows standard double seats to convert to single window seating with each passenger having an ATR's "X-Space" table on the aisle side;
All-Business Class, with 30 seats for charter operators;
Multi-Section, with a separate forward cabin and lavatory for dignitaries, separated from the rest of the aircraft by a bulkhead; and
Bespoke VIP, a concept ATR says can be "tailored to an operator's needs".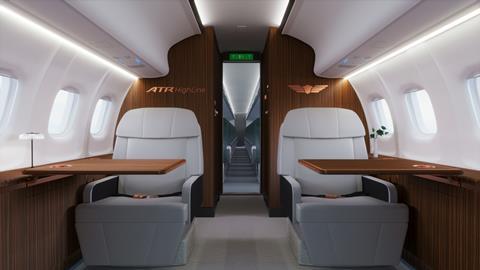 ATR says it will work with specialist conversion houses, delivering green aircraft. However, for some of the concepts it will offer to add a forward "plug" door allowing access at both ends of the aircraft.