ATR is forecasting an in-service fleet of up to 30 ATR 72s in South Korea by 2030, as it reiterates the type's suitability for domestic operations, especially between the country's east and west coasts.
In its forecast, ATR also highlighted the opportunities in using the aircraft to launch new short-haul passenger routes linking South Korea to northeast China and southern Japan.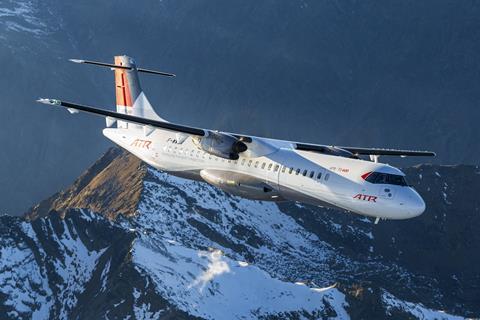 The airframer disclosed the fleet target at a briefing during the Gyeongbuk Aerospace, Defence and Logistics exhibition, held in Gumi city in South Korea.
ATR's commercial head for Asia-Pacific Jean-Pierre Clercin says South Korea has many under-served airports, with domestic flights usually operating between the north, where capital Seoul is, and south regions.
"ATR sees opportunity to develop east-west routes, linking communities living along the east coast to places in Korea's western part, and the ATR is the ideal platform to create these links, considering the passenger volume, geography and distance," Clercin adds.
Furthermore, he points out that the turboprop is a more economical solution on shorter domestic routes, compared to regional jets.
"We have seen operators try and fail to operate regional jets on domestic routes, and particularly on short distances, because these jets have higher operating costs, due mainly to higher fuel burn and maintenance costs," says Clercin.
According to Cirium fleets data, there are currently no in-service ATR 72s in South Korea. Regional operator Hi Air has five examples in storage, as the airline suspended its operations amid a pilot shortage.