Developer AutoFlight has secured a firm commitment from Singapore-based EvFly for up to 205 units of its Prosperity electric vertical take-off and landing (eVTOL) aircraft.
Split between the Prosperity 1 passenger and Prosperity Cargo vehicles, the order will see EvFly initially operate 10 examples of the latter on freight services in the Middle East.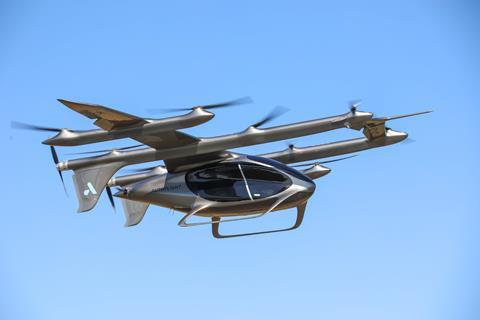 That will include "highly promising markets" such as the United Arab Emirates and Saudi Arabia, with "subsequent deployments in Asia and Africa".
Following the initial batch of cargo aircraft, EvFly will take 15 passenger-roled examples, AutoFlight says, although the mix of the remainder has still to be determined.
AutoFlight claims the aircraft will offer a payload of over 410kg (900lb) on routes of 130nm (240km) and above.
In its latest iteration the Prosperity 1 demonstrator has three pusher propellers and 10 lifting rotors mounted on booms extending from its wings, although the production version is likely to have just two pusher propellers.
European Union Aviation Safety Agency certification is targeted for 2025. AutoFlight says it hopes to begin deliveries in mid-2024.
"We are still in development and certification and will be picking our partners carefully, while securing real deals with firm orders," it adds.
AutoFlight recently performed what it claims was a record-breaking flight of the Prosperity 1 prototype, with the aircraft covering 135nm on a single charge of its batteries.
Omer Bar-Yohay, president of AutoFlight, says: "This is a fantastic deal and illustrates just a few of the many geographies that will benefit from eVTOLs in both cargo and personal mobility.
"The team at EvFly has a proven track record in successfully managing freight and cargo businesses and we're delighted to be partnering with them in what could be one of the first commercial eVTOL operations in the world."
Yannick Erbs, the founder and chief executive of EvFly, has a background in freight operations, previously serving as chief executive of Togo-based Africa West Cargo for 15 years from 1997. He now also runs Dubai-based AGEX Group, which specialises in cargo services in West and Central Africa.
Bar-Yohay, meanwhile, formerly worked as chief executive of Eviation; developer of the all-electric Alice aircraft.

Dominic Perry is deputy editor of Flight International but also contributes extensively to flightglobal.com. Although specialising in the coverage of the helicopter industry, he has written on most topics in aerospace – be they commercial, defence or business aviation. In addition, there has been an increasing focus on the decarbonisation of the industry and zero-emission flight initiatives.
View full Profile