Chinese aircraft developer AutoFlight expects to secure certification in the coming months for an unmanned cargo variant of its electric vertical take-off and landing (eVTOL) design.
Called CarryAll, the aircraft will be able to transport a 400kg (880lb) payload on routes of up to 135nm (250km).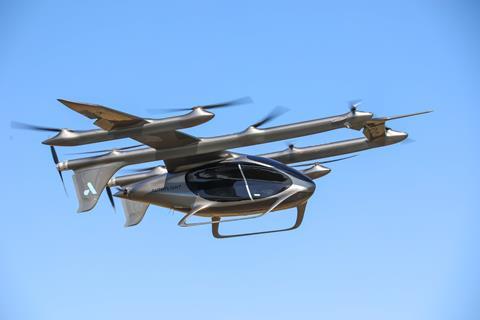 Certification from the Civil Aviation Administration of China (CAAC) is anticipated "in the next few months", says Mark Robert Henning, managing director of the firm's Augsburg, Germany-based subsidiary AutoFlight Europe.
Crucially, service entry of the cargo aircraft will pave the way for regulatory acceptance of Prosperity, its follow-on manned passenger aircraft, a mock-up of which is on the Dubai static display.
"We will have hundreds of aircraft out there producing data from daily operations; it will be much easier for the regulator to accept."
Using the same lift and cruise architecture as the CarryAll, Prosperity can accommodate four passengers and a single pilot, with the same 135nm range as the cargo variant.
AutoFlight currently has three proof-of-concept aircraft flying in China – one is currently engaged in high altitude tests – with the first Prosperity prototype due to take flight in 12-18 months' time, says Henning.
Chinese certification is targeted for late 2026 or early 2027, with European approval to follow at least 12 months later.
Unlike many of its rivals, AutoFlight has decided on a strategy of vertical integration in a bid to cut costs: the electric motors, battery packs, airframe, energy management system and power electronics are all internally developed and produced, says Henning.
"It makes a huge difference on cost if you go for vertical integration," he adds.
With hundreds of would-be manufacturers all bidding to take a piece of the eVTOL market, Henning is convinced that AutoFlight's "differentiator" will be "affordability".
"It will help accessibility for the end user: it cannot be toy just for VIPs," he says.
Scaling production will help to further drive down costs, Henning adds. He argues that Prosperity's architecture will also enable costs lower by "a factor of two" than those of its rivals due to a lack of complexity.
Rather than a tiltwing or tiltrotor design, the aircraft features 10 direct-drive propellers for lift and two rear-mounted propellers for cruise flight.
AutoFlight has, meanwhile, signed a memorandum of understanding with Abu Dhabi-based Falcon Aviation Services to collaborate on shaping advanced air mobility services across the Middle East.

Dominic Perry is deputy editor of Flight International but also contributes extensively to flightglobal.com. Although specialising in the coverage of the helicopter industry, he has written on most topics in aerospace – be they commercial, defence or business aviation. In addition, there has been an increasing focus on the decarbonisation of the industry and zero-emission flight initiatives.
View full Profile