AVIC's in-development AC332 helicopter has completed its maiden flight, with the programme securing its launch order for 24 examples.
The 15-minute sortie took place on 7 April in Tianjin in northern China, says the Chinese airframer on its social media platforms.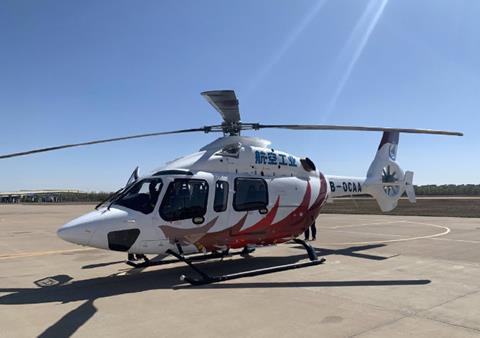 The AC332 – dubbed 'Auspicious Bird' in Mandarin – features a four-bladed main rotor, and can seat up to 10 passengers with a maximum take-off weight of around 4t.
The rotorcraft has a range of 374nm (693km) and a maximum cruising speed of 167mph (269 km/h), says AVIC.
Following the first flight, AVIC announced orders for the type, with a Xiamen-based lessor taking six examples, and a consortium of Chinese general aviation operators committing to another 18. The companies will use it for general transportation and para-public purposes such as search-and-rescue and law enforcement. AVIC also notes the rotorcraft has "noticeable performance advantages" in plateau operations.
An AVIC representative was quoted in state media as saying that the AC332 will be cheaper than Western-built types, thereby "lowering operational and maintenance costs".
AVIC expects continued test fliights and a type certification by 2025.
The AC332 designation had previously referred to a 40t Sino-Russian heavy-lift programme, which was also under development. That rotorcraft, whose fate is unknown, was to have made its first flight in 2032. Previous reports indicated the type to feature a seven-bladed main rotor and five-bladed tail rotor.