The updated AVIC AG600 amphibian has conducted its first sortie involving taking off and landing on water.
According to Chinese state-run broadcaster CGTN, the aircraft (B-0DCC) is designated AG600M and is optimized for the firefighting mission.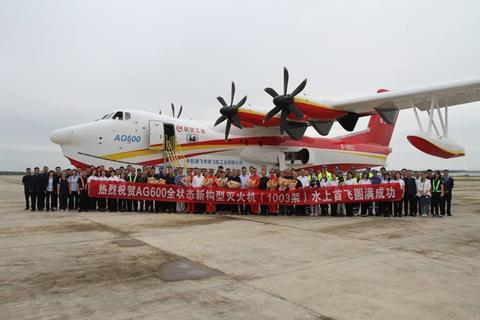 Taking place on 29 August, the water-to-water sortie came almost exactly three months after the aircraft's maiden flight on 31 May.
Powered by four Dongan WJ-6 turboprops, the aircraft took off from Zhanghe Reservoir, which sits adjacent to Jingmen's Zhanghe airport. The flight lasted 18 minutes an involved several systems checks – all of which reportedly went well – followed by a water landing.
The aircraft also sports a new white, red, and yellow livery.
Zhanghe Reservoir witnessed the maiden flight of the first AG600 (B-002A) in October 2018. AVIC uses the location for AG600 testing work owing to the relatively calmer waters as compared with the sea.
The AG600 is built by China Aviation Industry General Aircraft at Zhuhai Airport, which is beside the South China Sea near Macau.
The new aircraft is expected to "serve firefighting missions in 2023 and enter the market in 2025," says CGTN.
B-ODCC has several updates compared with B-002A. It sees the incorporation of a more bulbous upper fuselage and a re-shaped nose. Other changes include a larger under-fuselage skirt – which is consistent with the firefighting mission.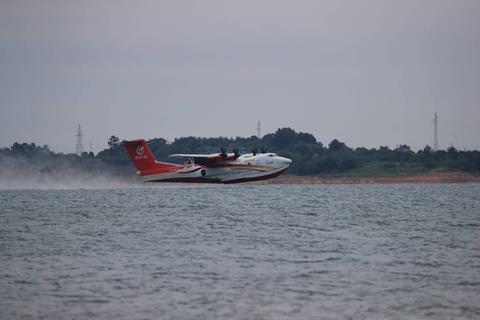 Most notably, Chinese state media has reported that B-0DCC has a maximum take-off weight (MTOW) of 60t, considerably higher than the 53.5t MTOW for the original prototype. This is also a much larger MTOW than what was formerly the world's biggest amphibian, the Shinmaywa US-2, with an MTOW of 43t.
Forest fires are a major problem in China. In mid-August, a drought in Southwest China resulted in a difficult firefighting season. Published images showed helicopters such as the Bell 412 and Mil Mi-17 using underslung bucket systems to drop firefighting liquid on the blazes.