Lessor Avolon sees no immediate requirement to top-up its order for Vertical Aerospace's VX4 electric vertical take-off and landing (eVTOL) aircraft despite having now exceeded its initial 500-unit commitment.
Avolon on 29 March announced its latest eVTOL partnership, a deal with Turkey's Gozen Holding which could see the aviation conglomerate take up to 100 VX4s. Added to existing commitments from the likes of AirAsia, Gol and Japan Airlines, and including options, it means that the lessor has now placed 550 of the developmental aircraft.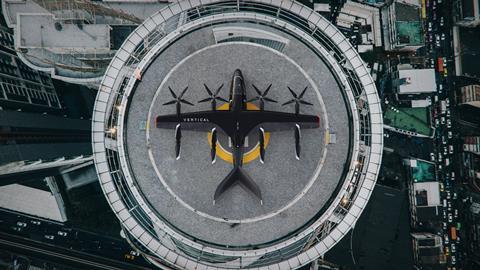 But Marc Tembleque-Vilalta, head of innovation unit Avolon-e, says that even though discussions with potential customers are ongoing "that doesn't mean we will order more aircraft immediately".
Due to the fledgling nature of the market, Avolon continues to work with its partners to identify the future aircraft requirements, says Tembleque-Vilalta, and manage the delivery pipeline over the initial years of eVTOL service entry, which will be characterised by "massive demand but limited supply", he says.
"It's a process we are following right now but ultimately it is not going to lead to any decision in the very near future."
Tembleque-Vilalta says the partnership with Gozen Holding – which includes a commitment to work on establishing the ecosystem for eVTOL operations – targets a key market for the firm "which has been on our radar for many months now".
Turkey and Istanbul "represents the biggest opportunity in the whole of Europe", given levels of road congestion, the time taken to access the city's main airport and the use of ferries to cross the Bosporus.
"There is a real appetite in the market there for advanced aerial mobility to facilitate people's movements," he says.
Avolon-e's role extends beyond simply acting as a supplier of aircraft: Tembleque-Vilalta argues that it has to act as a "facilitator of eVTOL operations around the globe", ensuring that all the "building blocks" for operational deployment are in place.
"Unless an airline has a place to land, charge and maintain the aircraft you can't really make any money," he says.
Tembleque-Vilalta declines to say whether Avolon or its customers have so far made any payments towards the aircraft, noting that Vertical Aerospace is sufficiently capitalised to achieve certification. In addition, he points to the investment the lessor has made in the manufacturer as a sign of its commitment to the as-yet unproven market.
While Avolon has so far restricted its commitment to a single eVTOL aircraft developer, Tembleque-Vilalta says that it could consider other manufacturers in future, but that decision is a "few years down the road".
"We continuously map the space and explore what other OEMs out there are doing but we are not finding anybody with a very convincing case to make that decision now," he says.
Avolon expects to receive its first VX4 in 2025 and is currently working with its partners to assess which will receive the initial aircraft; that decision is expected in late 2022 or early 2023, he says.