Boaz Levy, a 30-year Israel Aerospace Industries (IAI) veteran, has graduated to the top job at the state-owned group at one of the most promising periods in its seven-decade history. The once-turbulent business has just notched record revenues and healthy profits for 2020, despite the pandemic, and seen the emergence of a lucrative market in the Gulf following a landmark US-brokered peace accord with the United Arab Emirates (UAE) and Bahrain.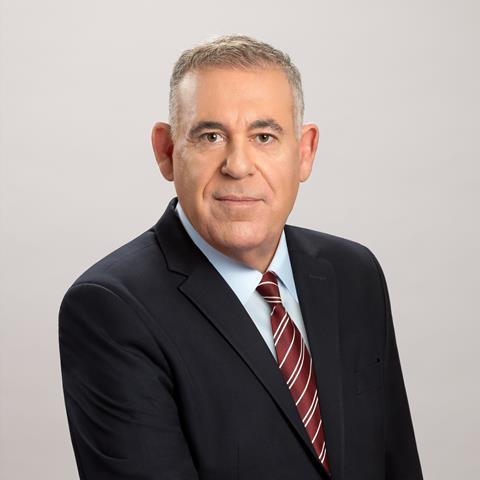 This year IAI has also deepened long-standing ties with South Korea, one of its historically strongest export markets. In March, the company signed a memorandum of understanding (MoU) with Korea Aerospace Industries to develop loitering munitions for the country's army. Because of its vulnerability to airborne threats, Israel has developed world-leading capabilities in unmanned aerial technologies, both offensive and defensive.
Under another South Korean partnership, IAI will expand its Tel Aviv-based Boeing passenger-to-freighter (P2F) operation with a new conversion facility for the Boeing 777 at Seoul's Incheon airport, which it plans to open with local firm Sharp Technics. Due to the shortage of belly hold capacity with the grounding of thousands of flights since March 2020, the P2F sector has been one of the few bright lights in commercial air transport, and IAI has benefited.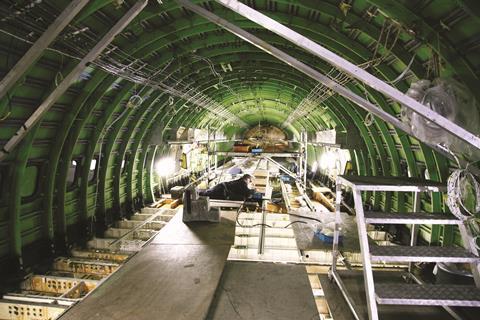 Levy, who succeeded Nimrod Sheffer last November after running IAI's systems, missiles and space division since 2013, is reluctant to claim too much credit for what chairman Harel Locker calls the company's "180-degree transformation" in recent years. "I am part of that change," he concedes. "And I will be continuing that plan, by continuing to focus on our customers and bring them the wonderful capabilities of IAI."
As a result of last August's Abraham Accords, one of these customers could soon be the UAE. Since last year, the Gulf nation has been establishing direct flight and trading connections with the Jewish State for the first time. From an economic point of view, the UAE's large defence and security budget makes it a prize target for Israeli industry. It also brings closer the prospect of a deal with Saudi Arabia and its even larger market.
In March, IAI announced a "strategic agreement" with EDGE, the UAE's recently-established national defence house, to cooperate on an "advanced" counter-unmanned aircraft system for the federation and the wider Gulf region. IAI has been developing and marketing such technologies for decades, but EDGE subsidiary SIGN4L has been creating its own suite of electronic warfare capabilities. The two companies say they will exchange know-how.
Levy, who began his career with IAI as an aerospace engineer, hopes the partnership with EDGE will lead to more cooperation with the Arab state and its burgeoning domestic aerospace and defence sector. "This MoU serves as a stepping stone for further business and strategic alliances between our countries, and will enhance cooperation for research and development and technological innovation," he says.
Although circumstances are very different, the two states face similar threats. Like Israel, the UAE is wary of "asymmetric" attacks by hostile forces in the region using weaponised drones, and both, together with Saudi Arabia, share a common enemy in Iran. "These deals give us a great potential to enlarge our business, but also to contribute to peace," says Levy. "We have capabilities that meet their needs in a way that makes us all safe."
Until last year, Israelis were banned from the UAE. Now Israeli companies have begun to feature at its many trade shows, which are taking place again after a pandemic hiatus. Although a last-minute Covid travel ban put paid to IAI's plans to attend the IDEX defence expo in Abu Dhabi in February, the company did send a large delegation to April's Cybertech in Dubai, and IAI will be part of a sizeable Israeli pavilion at November's Dubai air show.
IAI, which was ranked 33rd largest aerospace business in the latest FlightGlobal Top 100, has a range of expertise befitting of a state champion that has had to over the years fulfil many of Israel's various military aerospace needs as well as earn vital revenue from exports. Its capabilities range from munitions to maintenance, repair and overhaul, airborne radars to aerostructures, and space launchers to electronic warfare.
Occasionally that portfolio has been as much of a hindrance than a help. Successive IAI chief executives have also had to deal with both a highly unionised workforce and MPs and ministers who see it as their role to have a close interest in how the business is being run day to day. It has at times made IAI a more cumbersome and bureaucratic organisation to run than its nimbler, privately-owned main rival Elbit Systems.
However, restructuring in recent years has made IAI – which makes almost three-quarters of its revenues from exports – a leaner and more outward-looking business. It is now organised into four divisions: Elta Systems, which offers electronic warfare systems; aviation, which includes the P2F activities, the Gulfstream G280 programme and military aerostructures work; military aircraft, specialising in unmanned air vehicles; and systems, missiles & space.
The latter is responsible for the Ofek 16, a low-Earth-orbit reconnaissance satellite, which was launched last July on an IAI Shavit launcher. IAI contributes to Israel's space programme alongside Elbit and missiles house Rafael. Another important new product is the Barak ER 81nm (150km) missile interceptor, the longest-range addition to the Barak family. It underwent live firing trials earlier this year that included the interception of a ballistic target.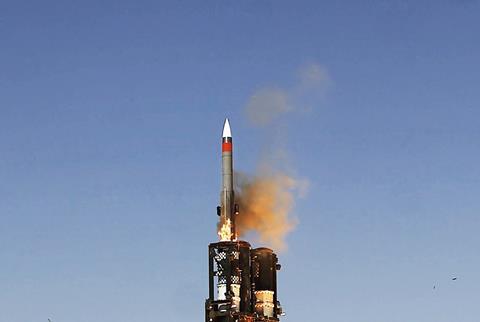 According to Levy, the Barak ER offers "enhanced capabilities for air missile defence" as it can be operated as a suite with the "combat proven" 19nm and 38nm variants of the interceptors from a single launch platform. The new range is crucial as 150km is the "optimal" distance to destroy an incoming missile, says Levy, who adds that IAI has secured at least one export customer for the latest version.
IAI continues to be a pace-setter in unmanned systems. While best known for its strategic platforms such as Heron, last September it upped its interests in the small tactical segment, taking a 50% stake in BlueBird Aero Systems, one of a swathe of Israeli start-ups specialising in remotely-operated technologies. In BlueBird's case, its speciality is vertical take-off and landing products, of which it claims to have sold more than 70 to an undisclosed customer.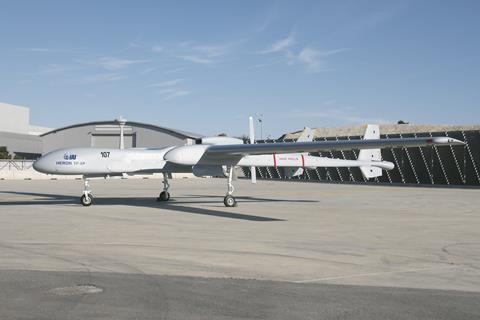 Last September too, IAI achieved another milestone, when a Heron became the first unmanned air vehicle (UAV) to fly through commercial airspace to land at an international airport. The UAV took off from a remote launch site and landed at Tel Aviv's Ben Gurion, before making the return journey. The ability to operate within controlled airspace is seen as crucial to UAVs making the transition to commercial use, such as light cargo transport.
Over its history, IAI chief executives have had to tread a delicate line between the often conflicting responsibilities of running a state-owned behemoth, and investing in the breakthrough technologies that, delivered at the right price, can give it the edge over international rivals. It can be a tough gig. Levy's predecessor Sheffer quit last year, after just two years. Internal disagreements over US expansion were thought to be a factor.
While IAI's financial troubles are largely behind it, not all parts of the group are performing well. IAI's 2020 revenues, at $4.18 billion, compared with $4.11 billion in 2019, were their highest ever, but the success was largely driven by defence, with the Elta electronic warfare business contributing much of the increase. Sales at the Aviation group, most exposed to the effects of the pandemic, fell 18% to $1.19 billion, and its operating losses deepened.
While the return of air transport may help reverse that trend, Levy will face tough decisions, including how much to stake in attempting to boost market share in the USA, and whether to continue its partnership with Gulfstream on the G280. There has even been talk of IAI returning to business aviation in its own right for the first time in two decades. It sold its Galaxy Aerospace venture to Gulfstream parent General Dynamics in 2001.
An engineer at heart, Levy's track record over 30 years with IAI has been impressive – he has led the development and market launch of some of its most important and lucrative programmes, such as the Barak weapon system. He will be hoping to continue that record of success during his tenure in the top job.