Boeing has appointed Alvin Liu to lead its China unit from 1 September, amid simmering geopolitical tensions that have impacted its business in the crucial aviation market.
Liu, who is a native of China's Liaoning province, replaces outgoing president Sherry Carbary, who is retiring later this year.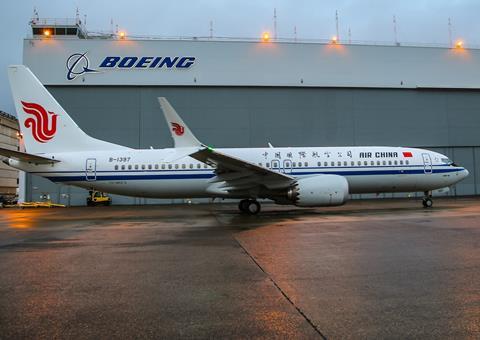 Liu, who is based in Beijing, has been serving as acting president since July 10, says Boeing. He led the airframer's government operations team in China before his current appointment.
He was also a veteran of the automotive sector with over 20 years of leadership experience, including as vice chairman of Ford's Greater China operations, as well as vice president of the carmaker's international markets group.
On Liu's appointment, Boeing Global president Brendan Nelson says: "China continues to be of critical importance to The Boeing Company and we are very fortunate to have Alvin lead our efforts here and build on the great partnership with our Chinese customers and other stakeholders."
The appointment comes as Boeing grapples with a challenging business environment in its 50th year of operations in China: it has netted no major orders from Chinese carriers in recent years, losing ground to European rival Airbus, which is steadily expanding its presence in the country.
China is a key market for Boeing: the airframer forecasts Chinese carriers to need around 8,500 new aircraft and $550 billion in services over the next 20 years. Its activities also contribute more than $1.5 billion in direct support to China's economy annually.
With Liu's appointment, both Airbus and Boeing will now have China-born executives helming their operations in the country. Airbus China is headed by company veteran George Xu, who joined the airframer in 2008.