3D printing specialist Stratasys says Boeing's approval of its latest thermoplastic material means the technology can be deployed to manufacture higher-fatigue structural components.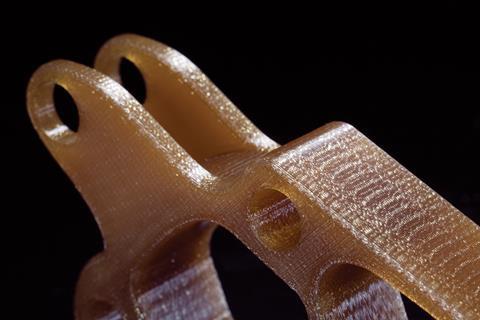 The company's aerospace vice-president Scott Sevcik says Boeing's green light follows a two-year qualification process for Antero 800NA, a polyetherketoneketone-, or PEKK-, based polymer that is able to withstand higher temperatures than traditional products used for additive manufacturing.
The material will allow Boeing and its suppliers to "meet applications that couldn't have been 3D-printed before", says Sevcik. "It delivers tremendous fatigue performances for a thermoplastic. This is the next wave for us. Antero starts moving us into higher fatigue areas."
Boeing is the first OEM to approve Antero 800NA, says Sevcik, but Stratasys's other aerospace customers include Airbus, Lockheed Martin, Marshall and Senior Aerospace. Many aircraft interiors suppliers also use its 3D printers to produce low-volume, custom features for premier cabins.
The US- and Israel-based company has 140,000 machines installed in industries from medical instruments to film-making, but aerospace and automotive are its biggest sectors. As well as supplying the 3D printers and the raw materials, Stratasys also offers its own 3D printing service.