Boeing took in 52 gross orders in July, including a 39-strong commitment for 787s from Saudi Arabian Airlines, alongside deals for 12 737 Max jets and a single 777 Freighter.
However, deliveries slid last month to 43 aircraft, down from the 60 units handed over in June.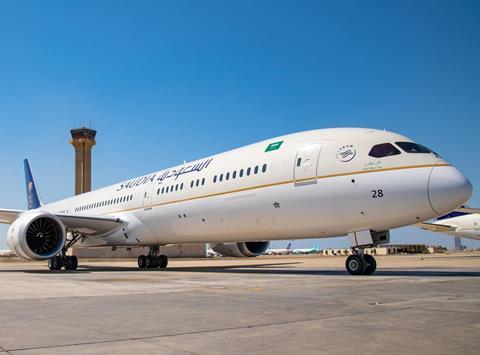 July's order figures were always going to compare unfavourably to those of the previous month, where commercial activity at the Paris air show saw the airframer add 288 new commitments.
But the lower rate of deliveries is potentially more significant given Boeing's ambition to increase output of the 737 Max and 787 following previous production halts and slowdowns.
Shipments in July included 33 737s – 32 Max jets and a solitary 737NG-based P-8 maritime patrol aircraft – a 15-unit fall on the previous month's narrowbody total.
United Airlines took the largest number of Max jets in the month, receiving nine aircraft, followed by Southwest Airlines with seven and Ryanair with four.
For the period to end-July, it has delivered 249 737s against its full-year target of 400 to 450.
Boeing also shipped 10 widebodies last month: three 767s – including two KC-46 tankers – three 777Fs, and four 787s.
The airframer has handed over 309 jets so far in 2023 – 249 737-family aircraft, one 747, 12 767s, 12 777s and 35 787s.
In addition to the 787 order from Saudia, the airframer took in deals for 12 737 Max – four from Luxair and eight from undisclosed customers – plus an order for a single 777F from an unidentified customer.
Boeing also made accounting adjustments in July that added another net 40 aircraft to its backlog. These deals are not new, but have been transferred out of a pool of orders the airframer reserves for those it believes may not actually close.
Year to date, Boeing is showing 659 net orders, including those due to accounting changes.
Boeing closed July with 4,928 aircraft in its backlog, up from 4,879 in June, comprising: 3,839 737s, 109 767s, 378 777s and 602 787s.