Boeing believes that sustainable aviation fuel (SAF) can offer the biggest carbon-reduction benefit to the industry in the short-term while waiting for new propulsion technologies to mature.
In addition, the airframer remains downbeat on the prospects for hydrogen, and also offers a cautious view on the prospects for new engine designs such as open rotor architectures.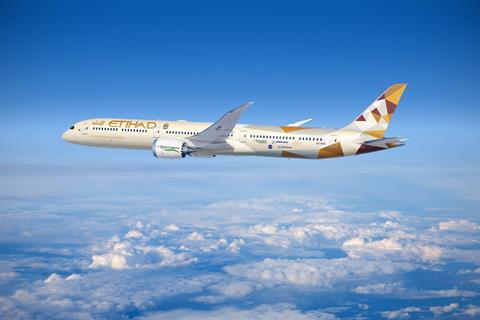 Boeing's newly appointed chief sustainability officer Chris Raymond – speaking during a recent visit to Singapore where he was accompanied by Mike Sinnett, vice-president and general manager of product development for Boeing Commercial Airplanes – said that multiple solutions would be required to drive the decarbonisation of aviation.
"When you talk about sustainable aerospace, what is it going to take to get the industry to net-zero [emissions]?" asks Raymond. "Our view is that it is going to take a portfolio of things."
In the shorter term, fleet renewal with more fuel-efficient aircraft will play a role. Raymond notes that in a normal year 2-3% of the fleet are replaced by more efficient aircraft but industry shocks tend to raise this number to 5%.
"We'll probably see a greater amount of deliveries over the next few years go toward a replacement of some of these older airplanes that will get retired," he says. "And that fleet renewal has a big impact on fuel efficiency and carbon emissions. The best thing the world can do as we recover from the coronavirus pandemic is to see that fleet renewal occur."
More efficiencies can also be squeezed from operations. He notes that airlines have diligently searched for fuel savings in areas such as single engine taxiing or reduced use of auxiliary power units. Aircraft weight has also been cut aggressively, whether through the installation of lighter seats, the removal of footrests, or loading less water on certain routes.
Future fuel and propulsion technologies will offer a route to lower-carbon future, but Sinnett contends that the industry will trend toward solutions that offer the most efficient energy usage. On this basis, he is sceptical about the feasibility of hydrogen.
In the last year, hydrogen has enjoyed significant publicity touting its potential as a future aircraft fuel, not least its championing by rival Airbus.
Sinnett, however, lists a number of issues. He says that getting the hydrogen to an aircraft can be carbon intensive. And not all hydrogen has a low carbon footprint: for example, while so-called 'green' hydrogen is produced via renewable energy, 'blue' hydrogen processed from methane has carbon dioxide as a biproduct.
"We believe that the lowest energy demand solution will win in the long run… hydrogen, for example, takes about four times the volume to get the same amount of energy as sustainable jet fuel," says Sinnett.
"If you're going to put something up to cruise altitude a couple times a day, then you really want to optimise the weight and the volume efficiency of whatever energy source that you have."
While Boeing continues to research hydrogen as a fuel source, this technology could take some years to mature. Moreover, such a fundamental change will present major certification challenges.
"We're not pooh-poohing it, and we're doing our hydrogen homework," says Sinnett. "We've done a lot of work on hydrogen, but we don't want to artificially create an expectation that this is the answer when we're not convinced that it is."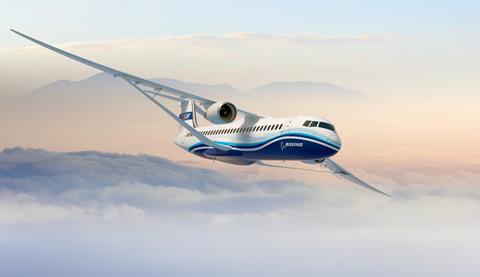 Boeing sees more immediate potential in SAF. In January, the company stated that by 2030 it will deliver aircraft capable of burning 100% SAF, while it continues to study other carbon-reducing technologies for the longer term.
Currently, airlines can only burn SAF that has been blended with fossil-based fuel, to a maximum of 50%. However, engine manufacturers are working to certificate their powerplants for 100% biofuel use.
Raymond and Sinnett note that while an aircraft today could fly on 100% SAF for its entire lifetime, it cannot feasibily swap between biofuel and Jet A. Or rather, it can make that switch, but only once, as the properties of the different fuel types vary too much, potentially damaging seals and pumps within the fuel system.
In future, airliners will need to switch back and forth between SAF and Jet A, and be able to use various mixes of the two, they point out.
"It really comes down to finding a way to replace some of the materials that absorb aromatics out of the fuel," says Raymond. "We're already working with some of the suppliers of those materials to try to figure out what we need."
Aromatics are compounds found in fuels derived from crude oil, but not present in biofuel.
Sinnett adds that another challenge with SAF, and blends, is the impact on the fuel's freezing point. Moreover, the density of SAF and Jet A differ: while 1kg (2.2lb) of SAF has better energy density than the same quantity of Jet A, the SAF takes up a greater volume.
"If you need a full tank of fuel to do a mission, you're not going to get as much energy with sustainable fuel as you would with Jet A, because now you're talking volume, not mass," says Sinnett. "And so from a mass perspective, it's got more energy per kilogram. From a volumetric perspective, it's got less energy per gallon."
This volume versus mass dynamic will impact fuel sensing systems, flight management, and flight planning, he says.
CFM International, Boeing's long-time supplier of narrowbody engines, recently unveiled a new demonstrator programme, RISE, which uses an open rotor architecture and promises a fuel-burn reduction of 20% over current-generation turbofans.
Sinnett says the concept is "certainly worth studying," as "specific fuel consumption looks really good on open rotor."
Nonetheless, he has some reservations about the architecture. An open rotor can be twice the size of conventional turbofan, he says, which generates significantly more airflow across the top of the wing, changing the aerodynamic performance of the structure.
"You may install [an open rotor] on a test stand without a wing behind it, and get one level of performance, but when you put it on an airplane with the wing behind it, now there's interference between the two, you'll get a different level of performance," he says.
Moreover, the fuselage of aircraft powered by an open rotor will require extra protection against fan blade loss, adding weight. Finally, a heavier engine will also require a heavier pylon.
"There's a lot of those things that by the time we integrate [open rotor] into the airplane, some of its [efficiency] goes away. But I think ultimately it's still very interesting."
CFM has said that the RISE demonstrator will be no larger than current narrowbody engines and has solved the weight and noise issues of previous generations of open rotor designs.
Sinnett stresses that engines are just one element of improving an aircraft's fuel efficiency, noting that structural dynamics, advanced materials, and flight controls also have a significant impact.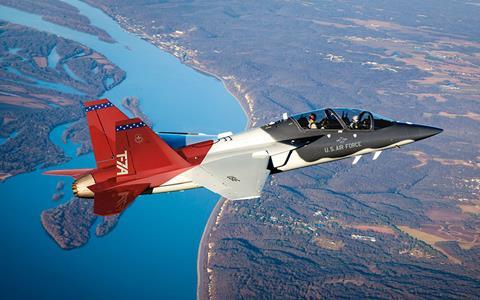 Boeing is taking sustainability seriously: the appointment of company veteran Raymond to the newly created post – reporting directly to chief executive Dave Calhoun – is a sign of that commitment.
Internally, Boeing is also working on ways to make its operation greener. Raymond believes it has already laid the foundations for a more sustainable design and development process on future aircraft, highlighted by efforts on the T-7A advanced jet trainer and Boeing Australia's Airpower Teaming System unmanned air vehicle.
"Both of those airplanes were designed and built differently: much more digital, far less physical assets were built and destroyed. And so just a lot less waste in the process."
Quite apart from reducing carbon emissions, Raymond says that a focus on sustainability will be key to the sector's ability to attract younger people to join the industry as it is a key consideration for that demographic.
He is in the process of building a senior team focused on sustainability, with members stationed both in the USA and internationally. Further, the company is putting the final touches on a new and updated sustainability report. This will present a clearer picture of the company's sustainability initiatives, including information that has not previously been released publicly.
Raymond says that reducing fuel burn has always been a hallmark of aviation, but in an age marked by concerns about the environment, it is increasingly crucial for the industry to highlight its efforts to become greener.

Greg Waldron is the Asia Managing Editor of FlightGlobal, responsible for the team's airline, aerospace, and defence coverage across the region. He has worked at the company since 2009. In the airline space, Waldron has conducted dozens of interviews with airline leaders in the Asia-Pacific. He also covers areas such as MRO and safety. On the defence beat, Waldron has written extensively about the rise of Chinese airpower, as well as broader airpower developments around the region, such as indigenous fighter programmes, and regional acquisitions of foreign equipment. In addition, Waldron writes about commercial helicopters in the region and business aviation. Waldron worked has a freelance journalist with his work appearing in several business publications.