Boeing has started temporarily reassigning employees affected by the pending 737 Max production halt, while major supplier Spirit AeroSystems has offered some staff the option to take "voluntary" layoffs.
Chicago-based Boeing expects the production shutdown, which is to start in mid-January, will impact some 3,000 employees who support the 737 Max programme, the company says in a 6 January memo to staff.
The shutdown will affect workers at Boeing's 737 production plant in Renton, Washington, and employees elsewhere involved in activities related to fabrication, supply chain, test and technology, it says.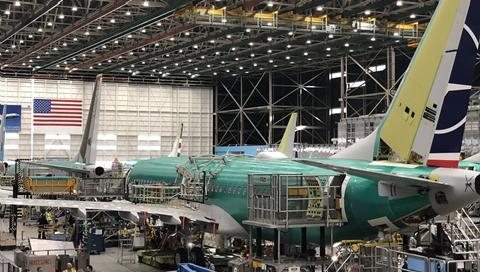 The memo stresses that Boeing does not plan to layoff or furlough staff. Instead, it will assign 737 workers to different tasks and transfer them to other production sites.
Boeing notified an initial group of employees about transfers on 6 January.
Those included Renton workers, some of whom will go to Boeing's 767 and 777 production facilities in Everett, Washington. Other Renton employees have been transferred Moses Lake, Washington and Victorville, California, where Boeing has been storing 737 Max amid the grounding. Those employees will support the storage work, the memo says.
Boeing also notified employees at its South Carolina propulsion site, which makes 737 Max engine nacelle inlets, of transfers to its South Carolina 787 production site.
Some employees will remain in Renton after production stops, focusing their efforts on improving Boeing's quality, work processes and kitting of components, the memo says.
"We are committed to making this transition as smooth as possible, and returning all of our teams to their home organisations once production starts again," says Boeing 737 vice-president and general manager Mark Jenks in the memo.
"No decision has been made on when 737 production will restart due to the uncertainty about the timing and conditions of return-to-service and global-training approvals," the memo adds. "Once there is a decision, loaned employees will start returning to their regular assignments in a phased approach."
Also on 6 January, Spirit AeroSystems chief executive Tom Gentile sent staff a letter offering them the opportunity to take what the company calls voluntary layoffs, as spelled out in employment contracts.
Spirit is reviewing its staffing in light of uncertainty about when Boeing will resume production.
"This continued uncertainty has forced us to evaluate all of our options for reducing costs, and means we will likely have to make many difficult decisions in the days and weeks ahead that will involve reductions in the size of our workforce to align to expected lower levels of production when production resumes," Gentile's letter says.
He adds that the company expects "to have more information by the end of this week".