Britten-Norman has acquired all nine of the turboprop Islanders it delivered to the UK Ministry of Defence (MoD) in the 2000s, and plans to refurbish and sell them on to civil operators.
The BN2T-4S variants, powered by twin Rolls-Royce M250-B17Fs, served in a surveillance role in the UK and several overseas missions from 2004, under the Defender 4000 designation.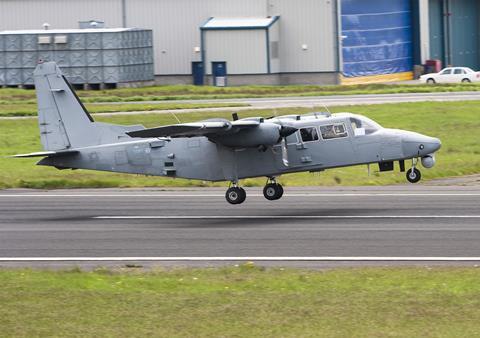 The BN2T-4S has an extended fuselage compared with the standard Islander, giving it an extra 1m (3.3ft) of cabin length. A larger wing – wingspan is 16.2m (53ft) compared with the standard Islander's 14.9m – accommodates more fuel, giving it a visual flight rules range of over 1,000nm (1,860km).
The Hampshire-based manufacturer says the aircraft can be equipped for tasks such as medevac, search and rescue, aerial survey and policing operations.
It adds that the MoD aircraft were delivered new and have been maintained by Britten-Norman. Most have flown less than 10% of a typical operational life of 40,000h, says the company.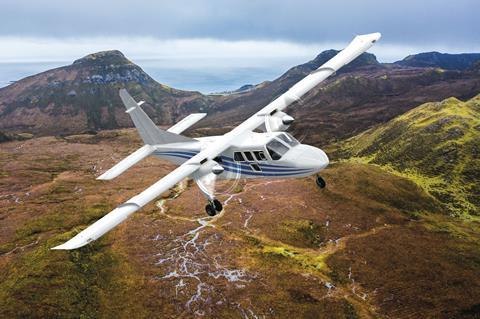 Although Britten-Norman will market the aircraft, they will also be offered under government-to-government agreements through the MoD's Defence Equipment Sales Authority (DESA).
Britten-Norman chief executive William Hynett says the BN2T-4S "brings a different offering to our customers", retaining the Islander's short take-off and landing capabilities with "a larger cabin for increased passenger comfort".
He adds that "the opportunity to work with DESA to derive mutual benefit in any sales is an added bonus".