The head of the UK's civil aviation regulator insists the relationship with its European counterpart remains "a positive one" despite the tension created by Brexit.
As a consequence of the UK's departure from the EU on 31 December 2020, the country ceased to be part of the European Union Aviation Safety Agency (EASA), with the Civil Aviation Authority (CAA) re-established as a full regulatory body.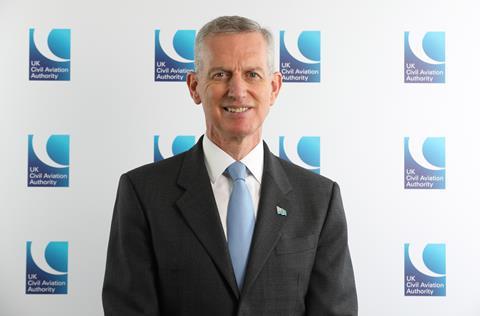 But there remains "common interest" between the two agencies, Sir Stephen Hillier, chair of the CAA, told the latest Eurocontrol Straight Talk webinar on 13 October.
Since the end of the Brexit transition last year, the CAA's relationship has "gradually increased", he says, both with EASA and "on bilateral relationships".
However, he cautions that work remains to be done. "I'm not saying in any way saying that somehow the withdrawal from EASA and the impact it has on aviation in the UK is behind us; lots still to do."
Hillier plays down suggestions that it needed to recruit huge numbers of new employees to replicate functions previously handled by EASA. "We identified posts and filled them," he says. "It was nothing like a thousand people – a fraction of that."
While broad regulatory alignment with EASA is still desirable, Hillier says where "opportunities to be more adaptable and more agile" can be identified, particularly around new technologies or innovation, the CAA should pursue them.
However, he cautions that the agency "does not want to create divergence for divergence's sake".
Although the CAA does not directly decide on airport expansion, Hillier sees the debate around capacity in the southeast of England as likely to flare up again, despite the current pandemic-induced lull.
"My perspective is that we have had a catastrophic reduction in air transport volumes. This has led people to ask why we need more runway capacity."
But that argument is "only valid", he asserts, if the assumption is made that 2019 air traffic volumes in the UK "were the highest they will ever be".
"I don't think that's the case – it is entirely appropriate to assume that we will get beyond the 2019 figures at some point. Additional runway capacity in the southeast will come back on the agenda at the same point."
In addition, Hillier is convinced that as part of the UK's rebuilding of its aviation industry in the wake of Covid-19, there must be greater focus on resilience.
"What we have comprehensively demonstrated is that we did not have the degree of resilience that we needed."
Further challenges will manifest themselves in the future and the industry must be in a position to withstand them, he says.
Although the UK is no longer a part of EASA, it remains in Eurocontrol as that is not an EU institution. "I want to emphasise that nothing has changed [in that respect]," says Hillier. "It is countering the impression that anything that starts with 'Euro' no longer involves the UK."