UK firms Britten-Norman and Cranfield Aerospace Systems (CAeS) are to merge in an ambitious move to spur the development of a hydrogen-powered, zero-emission aircraft.
Although CAeS has previously focused on the 19-seat sub-regional market, it has now stretched its target to eventually encompass a clean-sheet 100-seater for service entry in the middle of next decade.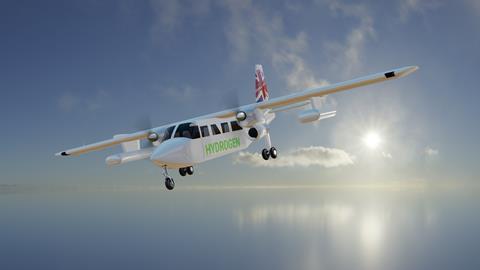 Any future development will see the pair build on links forged through their work on the UK government-backed Project Fresson, under which a CAeS-designed fuel cell powertrain will be integrated into a nine-seat BN2 Islander.
Existing CAeS backers HydrogenOne Capital Growth, Safran Corporate Ventures, and United Arab Emirates-based finance firm Strategic Development Fund will invest up to £10 million ($12.3 million) in the new company, including up to £5 million from HydrogenOne once the merger is finalised. That milestone is due in mid-2023, subject to final due diligence.
Additional financing is currently being raised to support future growth, the company adds.
Britten-Norman's current Omani owner Alawi Zawawi will also join the merged company. He is the majority shareholder of BN Group – holding at least 75% of its shares – which in turn owns six Britten-Norman-related subsidiaries, UK Companies House documents reveal.
Its most recent accounts, for the year ended 31 March 2021, show BN Group made a profit of £188,000 on turnover of £12.5 million.
No details of the new entity's structure, ownership or indeed name have been disclosed.
Revealing the pact, the partners say the merger will help "create the world's first fully integrated, zero-emissions sub-regional aircraft for entry into service in 2026."
To date, CAeS has attracted orders for modified Islanders from German start-up airline Evia Aero and lessor Monte Aircraft Leasing.
Plans previously detailed by CAeS chief executive Paul Hutton called for the modified Islander to be followed in 2027 by the conversion of an existing 19-seat aircraft with a liquid hydrogen fuel cell-based powertrain. A clean-sheet 19-seater was then envisaged around 2029.
But the company has now significantly expanded the scale of its future ambitions, revealing "the intention to design and manufacture new clean-sheet aircraft up to 100 seats powered using zero-carbon technology."
Under a revised schedule, a liquid hydrogen retrofit programme for 10-19-seat aircraft is envisaged from 2028, followed by a clean-sheet 20-50-seater in 2032 and a 50-100-seater in 2035.
"This deal accelerates our roadmap for the introduction of new zero-emissions aircraft. As other sectors decarbonise quickly, it is imperative that the aviation industry accelerates its own transition to new, clean aircraft," says Hutton.
"Looking to the future we will use the combined experience of Cranfield Aerospace and Britten-Norman to produce an entirely new aircraft design, optimised around hydrogen fuel cell technology."
William Hynett, chief executive of Britten-Norman, adds: "The merging of Britten-Norman and Cranfield Aerospace Solutions will create a new market leader in green aircraft manufacturing, bringing together joint strengths in aerospace manufacturing, certification and innovation."
CAeS operates from facilities at Cranfield airport, while Britten-Norman has sites at Lee-on-the-Solent and Bembridge, Isle of Wight.

Dominic Perry is deputy editor of Flight International but also contributes extensively to flightglobal.com. Although specialising in the coverage of the helicopter industry, he has written on most topics in aerospace – be they commercial, defence or business aviation. In addition, there has been an increasing focus on the decarbonisation of the industry and zero-emission flight initiatives.