Cranfield Aerospace Solutions (CAeS) has confirmed the summer 2023 target to conclude a merger with UK aircraft manufacturer Britten-Norman (B-N) has been "paused" but insists a tie-up is still on the table.
The partners in April announced their merger plan as part of a broad strategy to deliver zero-carbon aircraft, initially based around a hydrogen-powered BN-2 Islander. They hoped to finalise the combination by mid-year.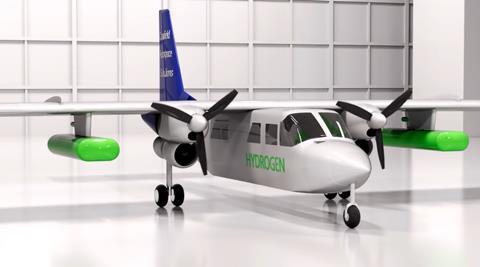 However, speaking at an event to inaugurate a new Islander production line in Bembridge, Isle of Wight last week, B-N chief executive William Hynett appeared to play down the prospects of a rapid conclusion to the process, referring to CAeS as an "an industry partner" with which it has a "joint endeavour".
CAeS confirms that the "previous timetable to deliver this merger in the summer of 2023 has now been paused".
Instead a "strategic partnering agreement" with B-N "has been prioritised ahead of concluding any merger process." This will "ensure that joint focus is maintained on delivering the Hydrogen Islander," CAeS says.
"We intend to sign the strategic partnering agreement as soon as possible," it adds.
CAeS is developing a fuel cell-based powertrain for the Islander under Project Fresson, an initiative part-funded by the UK government. First flight of the modified aircraft is not due until next year.
"Both companies remain committed to their shared vision of sustainable aviation and will continue to work in lockstep to deliver Project Fresson, with the aircraft planned for certification by the end of 2026," says CAeS.

Dominic Perry is deputy editor of Flight International but also contributes extensively to flightglobal.com. Although specialising in the coverage of the helicopter industry, he has written on most topics in aerospace – be they commercial, defence or business aviation. In addition, there has been an increasing focus on the decarbonisation of the industry and zero-emission flight initiatives.
View full Profile