Air taxi developer Joby Aviation has begun flying its pre-production prototype aircraft with a pilot on board.
The California-based company said on 4 October that four members of the company's flight test team have now piloted flights on the electric vertical take-off and landing (eVTOL) aircraft. Joby says the flights began in September but it does not reveal how many flights have taken place to date.
The pilots have completed "a series of initial tests that included free thrustborne hovers and forward transitions to semi-thrustborne flight", Joby says.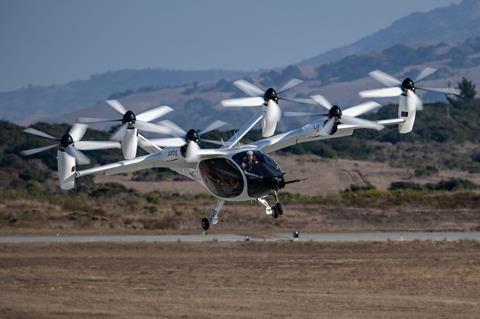 The testing took place at the company's pilot production facility in Marina, California and complements ongoing flight testing at Edwards AFB, which was announced in September, where both Joby and US Air Force (USAF) pilots will demonstrate the aircraft's capabilities in realistic operating scenarios.
"Having helped design and test flight controls for a wide variety of aircraft, including all three variants of the [Lockheed Martin] F-35 Joint Strike Fighter, nothing compares to the simplicity and grace of the Joby aircraft," says Joby's chief test pilot James Denham. "After completing more than 400 vertical take-offs and landings from the ground, it is a privilege to sit in the cockpit of our aircraft and experience first-hand the ease and intuitive nature of the design that the Joby team has developed."
Until these first piloted flights, the company's test campaign had consisted of remotely-controlled flights. In this way, the company generated "a vast amount of data on the performance of the aircraft across a broad range of flight conditions".
Last week, Joby delivered its first aircraft to the USAF, which plans to evaluate the type's suitability for military missions. Joby intends eventually to deliver up to nine of its aircraft to the USAF as part of a contract worth up to $131 million under the service's Agility Prime programme.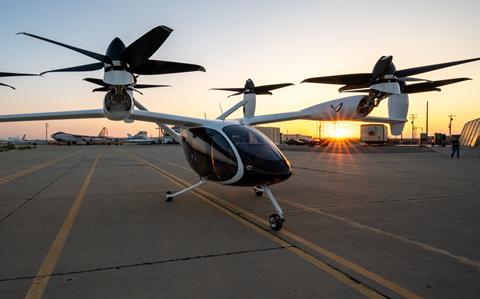 In September, the company said it will build its first scaled aircraft manufacturing facility in Dayton, Ohio, producing up to 500 aircraft per year. The site will support "up to 2,000 jobs", the company said at the time.