A consortium researching the control requirements for "complex configuration" next-generation aircraft such as those destined for urban air mobility (UAM) applications has been boosted by a £1 million ($1.37 million) grant from the UK government.
Led by avionics and systems specialist Callen-Lenz, which is based in Wiltshire in the southwest of England, Project NOMAD is an 18-month research programme that should culminate in the development of an advanced low-workload cockpit for future aircraft.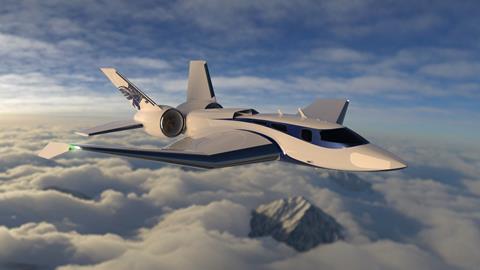 Part of that effort seeks to come up with a common control interface that can be used across a wide range of different aircraft architectures.
NOMAD – or novel control approaches to complex aircraft dynamics – includes a technology development framework and the provision of highly resilient satellite communications suitable for the support of UAM operations in congested urban environments. The Satellite Applications Catapult is part of the consortium.
The first application of the new flight-control system, and its underlying methodology, will be on a vertical take-off and landing business jet being developed by South Africa's Pegasus Universal Aerospace. Its Vertical Business Jet features a hybrid-electric powertrain, including two lift-fans in each wing.
A pair of one-quarter-scale demonstrators are scheduled to arrive at Callen-Lenz's facility in September, ahead of flight-tests which are due to start in March 2022. Outputs from that process will inform the design of the full-scale prototype and its flight-control system.
Another two aircraft projects are in line to use the NOMAD controls, one in Australia and the other in the Middle East, says Callen-Lenz.
Funding for NOMAD has been provided by the Aerospace Technology Institute.
"The project has the potential to unlock multi-billion-pound new aerospace markets and potentially create thousands of high-value jobs in the UK," says Callen-Lenz chief executive Jonathan Webber.