At Paine Field airport, near Seattle, a Boeing 787-10 research jet is being readied for an expedition to Tokyo, Singapore, and Bangkok, as part of a programme with major potential to reduce aviation's emissions.
Historically, international flights have been disconnectedly guided through the skies, with national air navigation service providers (ANSPs) acting independently to manage traffic entering and leaving their airspace.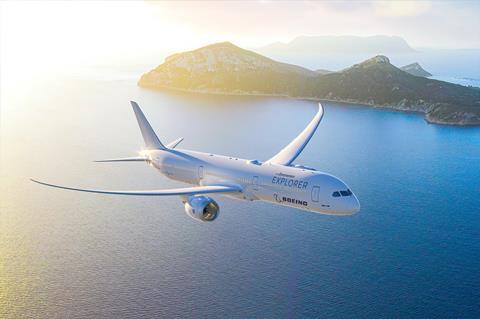 Now, in partnership with ANSPs in the USA, Japan, Singapore, and Thailand, Boeing will deploy the 787, the first of the type to join its ecoDemonstrator programme, to test trajectory-based operations (TBO). That will see multiple nations work together to optimise flight paths, from takeoff to touchdown.
The initiative transitions from today's tactical and nationally-isolated style of air traffic control to pre-agreed courses, planned and delivered by ANSPs working as one to deliver streamlined flows of flights through multiple national jurisdictions.
It's a big deal.
Boeing's research flights, to occur during June, will combine information shared by the participating ANSPs on weather, air traffic volumes, and airspace closures to help devise the most efficient courses, potentially reducing aircraft fuel burn and emissions by up to 10% - more if you consider that the testbed aircraft will be at least 30% powered by sustainable aviation fuel sourced at each of the airports it visits.
The flights will also serve as a working model for widespread deployment of TBO, a laboratory simulation of which was conducted earlier this year after almost two years of collaboration between the ANSPs of the USA, Canada, Japan, Singapore and Thailand.
Han Kok Juan, director-general of the Civil Aviation Authority of Singapore, describes that project as "a significant milestone and an important pathfinder" for reform of global airspace management.
"TBO is a game-changing initiative," he says, "and alongside sustainable aviation fuel, a major pathway for international aviation to achieve its net zero by 2050 long-term aspirational goal."
It is also an initiative that Singapore is considering implementing between 2027 and 2032, as part of a Sustainable Air Hub Blueprint it is developing for release later this year.
In April, a gathering of Asia Pacific aviation leaders convened in Bangkok to formalise collaboration between all 43 of the region's ANSPs to progress seamless management of air traffic using measures including TBO.
Their meeting was the inaugural get-together of the newly formed Asia and Pacific Air Navigation Service Provider Committee, the first such group in the world, which is also collaborating with civil air navigation body CANSO and IATA.
Among its flagship resolutions, the committee agreed to "accelerate the development and implementation of seamless air traffic management" through increased investments to support surging growth in the region's air traffic, and by sharing real-time flight, aeronautical, and meteorological data to smooth flight flows.
Not only will this collaboration help streamline the movement of flights to, from, and within APAC, the world's fastest-growing air transport region.
It also potentially delivers a model for reform elsewhere, most notably Europe, where, for years, the airline industry has continuously fought but failed to achieve coordinated management of flights through the region's skies.
Just weeks before the Bangkok meeting of APAC ANSPs, advocacy group Airlines for Europe (A4E) launched another frustration-fuelled campaign to plead and pressure for change.
"Half a decade ago, airlines, ANSPs and other aviation stakeholders signed the Efficient Airspace Declaration calling for a proper regulatory framework for airspace in Europe that would lead to a more digitalised, automated and seamless airspace," says A4E's acting Managing Director Laurent Donceel.
"Since then, there has been no movement from policymakers who continue to let the opportunity of airspace reform pass by."