US interiors specialist C&L Aviation Services has gained approval for a modification of the Embraer ERJ-135 which transforms the regional jet into an all-business-class layout.
Covered by a supplemental type certificate (STC), the structural alterations include relocation of the seat tracks – allowing for a 1-1 layout – and a central rather than offset aisle, which is also wider than that of the original. Improvements to the galley are also included.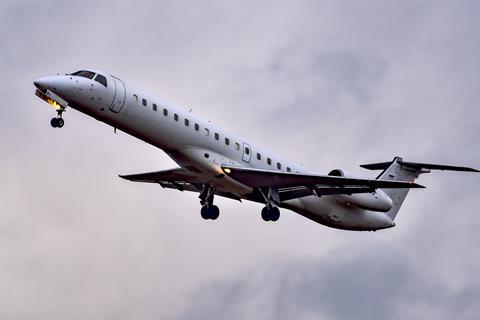 The changes reduce capacity from 37 to 16 seats, each with a 43in pitch.
Bangor, Maine-based C&L is developing a separate amendment for the larger ERJ-145 and expects US Federal Aviation Administration approval for the change by year-end. This cuts capacity from 50 to 24 seats, says C&L.
However, in order for these modifications to be implemented, changes under a separate STC are also required, says the company. These include the removal of the overhead bins, installation of new ceiling and valance panels, plus new cabin lighting.
Additionally, C&L is developing several other upgrades for the legacy Embraer jet, including a new first-class seat design.
Embraer in May launched its own conversion programme for the ERJ-145, which includes the removal of overhead bins and installation of 16 to 28 "premium seats" in a 1-1 layout.