A so-called 'cash-for-clunkers' scheme that sees airlines incentivised to retire older, more polluting aircraft in favour of newer jets could be part of a solution that accelerates the transition to greener fleets, European aerospace leaders have argued.
Guillaume Faury, Airbus chief executive, told an online event organised by the Aerospace and Defence Industries Association of Europe, that such an initiative would be "a win for airlines, a win for the environment and a win for the whole aerospace supply chain" by stimulating demand.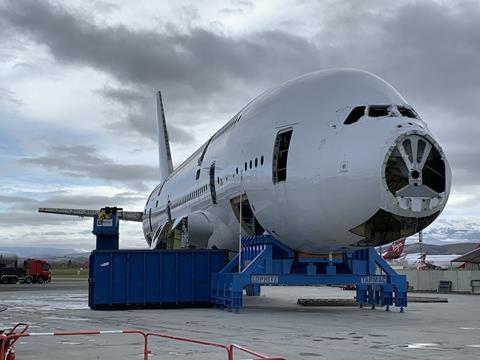 He adds: "We support it, we try to promote it and we would like this to come to reality sooner rather than later, to a limited extent."
But Faury cautions that any scheme would need to be rolled out in a "controlled manner" and "cannot only be about cash for clunkers".
He also cautions that engine manufacturers, whose business models rely on the years of revenue from the support of in-service powerplants, might find it difficult to fully endorse such a scheme.
While not arguing against it, Philippe Petitcolin, chief executive of Safran – one half of the CFM International engine joint venture – says that financial incentives might be insufficient "motivators" in the current environment. "Airlines just want to survive," he says.
"From Europe we need a clear decision on the use of sustainable aviation fuels. That will push the airlines to… buy new airplanes which are a lot more efficient."
Regulation covering the future use of sustainable fuels would provide a "catalyst" for change, he argues.
Safran continues to investigate the viability of three fuel sources for the next generation of engines, Petitcolin says: biofuel, sustainable aviation fuel, and hydrogen.
However, with a hydrogen-powered airliner unlikely to arrive much before 2035, he says that biofuel or sustainable aviation fuel can help aviation meet its short- and medium-term environmental obligations.
CFM's current Leap powerplants can burn a blend of up to 50% biofuel, Petitcolin notes, but greater European effort is required to ensure its widespread availability.
Whether European politicians will act remains to be seen, but the bloc's chief regulator at least appears to be listening.
Patrick Ky, executive director of the European Union Aviation Safety Agency, says that carriers should be given financial support "for leading in greener operation and leading in technological implementation".