Singapore's Changi airport is closing Terminal 2 (T2) for 18 months from May 1 due to the dramatic fall in traffic as a result of the coronavirus crisis.
Transport minister Khaw Boon Wan told parliament on 6 April that the impact on Changi was "severe", describing the airport, which has four terminals, as "deserted".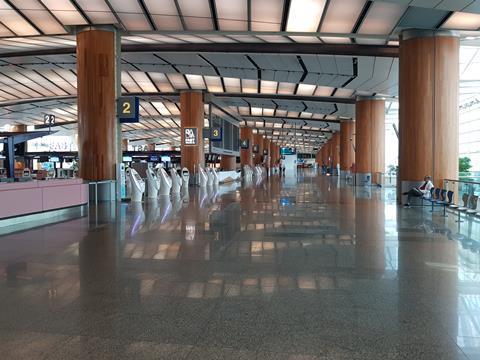 "Right now one terminal is enough to handle the current volume of demand. We can close down one or two terminals. But we must think about post-pandemic recovery."
The move will allow the airport operator, retail tenants, airlines and ground handlers to save on running costs, he added.
Other airports worldwide have also moved to close terminals, scale back operations and defer non-essential spending to battle the crisis.
The minister says Singapore Airlines (SIA) will consolidate its operations at Terminal 3, adding that other airlines will also be affected.
Operator Changi Airport Group (CAG) said on 6 April that details of other airlines' relocations will be published nearer 1 May.
The closure will allow planned upgrades for T2 to be sped up and these could be completed by up to a year in advance. The project was set to increase overall handling capacity by 5 million to 90 million passengers per annum by 2024.
CAG adds that the closure of Terminal 4 (T4) could also be on the cards. At present, there are only a small number of flights there and operations there have been scaled down.
"If the remaining airlines at T4 choose to suspend or adjust their flight schedule, CAG will also consider suspending operations at T4 temporarily but with the objective of restarting operations quickly when airlines confirm the resumption of flights," the company stated.
Khaw says full recovery this year is unlikely but partial recovery is probable in 2021.
He adds, "We will ensure sufficient capacity for all airlines to grow when passenger traffic recovers."
The Singapore government has moved early to protect the country's aviation industry, having announced stimulus packages for the economy. Separately, SIA raised additional liquidity with the backing of shareholder Temasek, a government-owned investment company.
Khaw says if SIA were to collapse, it would undermine Singapore's ability to recover from the crisis, adding that Changi supports many jobs.
"That is why we took swift action to support the air hub, prevent the loss of strategic capabilities and our hard-earned position as a reliable air hub."
However, he says the crisis could affect the timeline and planning for Changi's Terminal 5 (T5), due to come online in 2030 with an initial capacity to handle 50 million passengers per annum.
Khaw says: "I strongly believe air travel growth will return, though a quick rebound is unlikely. Fortunately, T5 was designed to be modular, so that its construction can be scaled up or down as necessary."