The Civil Aviation Administration of China (CAAC) has issued a safety bulletin urging operators of Boeing 737-300/400/500 aircraft to have the main landing gear checked.
This comes after one undisclosed operator discovered cracks between the fastener holes of the main landing gear's upper rear beam. The cracks were found on two 737s, the authority adds.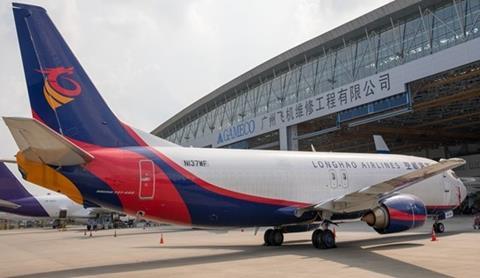 The two aircraft had clocked up 4,600 and 2,900 flight cycles respectively, when the cracks were found. The CAAC says this was significantly lower than the 15,000 flight cycle inspection interval it advocates.
It is unclear what caused the structural damage to the two 737s.
To this end, the CAAC has urged all operators of the aircraft types to conduct immediate inspections, regardless of whether or not the aircraft has hit the prescribed 15,000 flight cycle limit.
Airlines have also been told to check for fuel leakage near the main landing gear during line maintenance, and to implement any structural fatigue management measures during checks.
The CAAC has also urged airlines to report any "major structural damage or defects" discovered during maintenance.
Cirium fleets data shows that there are 68 737 Classics in service in China, nearly all of them operating as freighters. A small number of aircraft are in operation with the People's Liberation Army Air Force.