The AVIC stand at the Paris air show features a range of Chinese programmes – except for one.
Among the civil aircraft programmes, the Chinese aerospace company showcased models of its AG600 amphibious aircraft, the Harbin Y-12 utility aircraft, as well as the MA60 turboprop.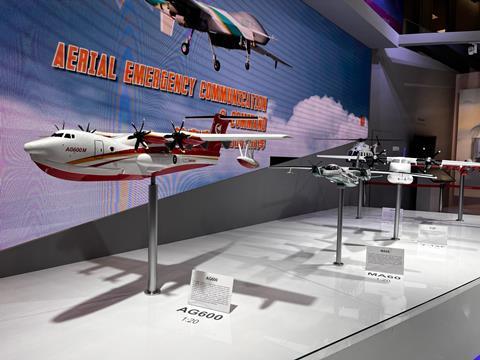 Noticeably missing was a model of the in-development MA700 turboprop whose fate remains unknown following Ottawa's 2020 refusal to grant an export lisence to Pratt & Whitney Canada for its PW150C engine. The programme, after a high profile launch at the Zhuhai Airshow in 2013, had been a mainstay at previous airshows in which AVIC participates, so the absence of its model raises questions about the programme.
Over at compatriot Comac's stand, models of its two flagship programmes – the ARJ21 regional jet and the C919 narrowbody – were on display. An accompanying display panel highlights details of the in-development long-range widebody aircraft – formerly known as the Sino-Russian CR929 – but now named "Comac widebody".
Four years since their last Paris outing, Chinese aerospace companies now return to the show in a radically different geopolitical and economic environment.
For one, their appearance in Paris comes amid simmering tensions with the West, and amid a greater push to develop a homegrown aerospace industry. Russia, a close ally which had a significant presence at the show, was also absent, owing to sanctions related to its invastion of Ukraine.
Against this backdrop, it is easy to see why Chinese aerospace companies were more than keen to keep a low profile in Paris.
When asked about the prospects of its long-haul programmes, as well as about ongoing trade tensions, Comac representatives would only state that the company preferred to focus on the in-service programmes, the ARJ21 and C919, and said the company would not be announcing any new orders at the Paris show.
It also declined to comment on geopolitical tensions. Comac relies heavily on Western technologies. The C919, for instance, has CFM International Leap-1C engines and is packed with Western systems. For Comac, Beijing's increasingly fraught relationship with the West is an all-too-real threat.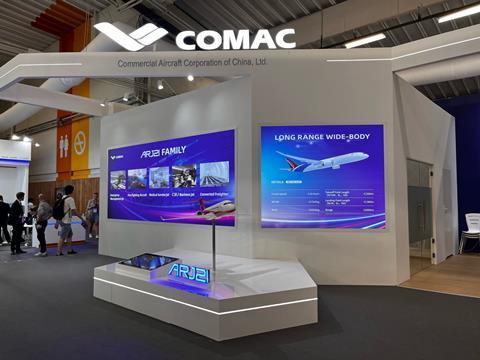 Comac said it intends to "undertake targeted market promotion activities… and forge connections with potential customers", in a separate statement issued at the show.
Granted, Paris is no Zhuhai: one would be hard-pressed to find a headline order announcement from Comac – or even Chinese operators – at future Paris shows.
The contrast is even starker when you consider that much of the major commercial order announcements at this year's Paris air show came from Indian carriers – underpinning the growing importance of the Indian market.
Indeed, it could be sooner than expected that Chinese aerospace companies make a quiet exit from major Western shows, choosing instead to focus on homegrown or regional shows.
It is a nod to Beijing's increasingly inward-looking perspective, but also shows that just as Western aerospace firms are reassessing their relations with China, so too are Chinese aerospace companies rethinking their engagement with the West.