The AVIC AG600 amphibian continues to undergo airworthiness tests, with service entry expected in 2024-25 timeframe.
The firefighting version of the AG600, the AG600M, has arrived at a flight test centre in Xian, China, where it will continued to undergo tests, according to AVIC.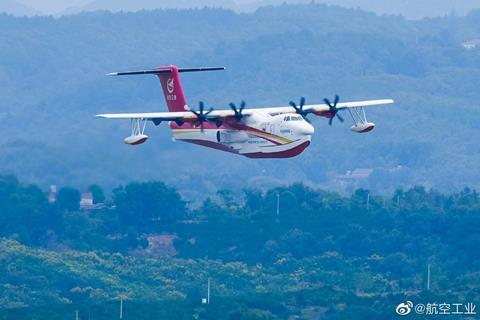 The AG600M is expected to enter service in 2024, while the search and rescue version of the four-engined aircraft is expected to do so in 2025.
The AG600 is the world's largest amphibian. The AG600M has a maximum take-off weight (MTOW) of 60t, higher than 53.3t for the type's original prototype. The world's second biggest amphibian, the Shinmaywa US-2, has an MTOW of 43t by comparison.
In September 2022, the AG600M completed a series of water-drop tests, including taking off with a maximum load of 12t of water from both a runway was well as from China's Zhanghe Reservoir.
That month also saw the AG600M receive its first customer committments, with AVIC General Huanan Aircraft Industry signing agreements for four examples and Everbright Financial Leasing signing letters of intent for two.
China Aviation Industry General Aircraft near Zhuhai Airport builds the aircraft, which had its first water take-off in 2018, following a first flight in 2017.
The AG600 family is powered by four Dongan WJ-6 turboprops.
AVIC has emphasised the AG600's civilian role, but it has clear military applications, such as supporting atolls in the South China Sea where Beijing has built military bases, the insertion of special forces, as well as long-range combat search and rescue.
The USA is also revisiting to the potential offered by amphibious aircraft. The US military's Defense Advanced Research Projects Agency (DARPA) recently tapped General Atomics Aeronautical Systems and Boeing unit Aurora Flights Sciences to produce designs under its Liberty Lifter programme.
DARPA launched Liberty Lifter in 2022 with the goal of producing an aircraft capable of carrying large, heavy loads and of taking off and landing on water without ground or ship-based infrastructure.