A four-engine, twin-tailed UAV – known as the 'Double-tailed Scorpion' – took off on its first flight in Sichuan province in China.
The aircraft, manufactured by state-owned Sichuan Tengden Science and Technology, flew its 18-minute maiden sortie in Fengming general aviation airport in Sichuan on 25 October, according to state media reports.
The company touts the UAV as the world's first "large-scale four-engine, multi-purpose, medium-altitude long-endurance fixed-wing UAV", and says its civilian uses could include in cargo and logistics, as well as aerial seeding.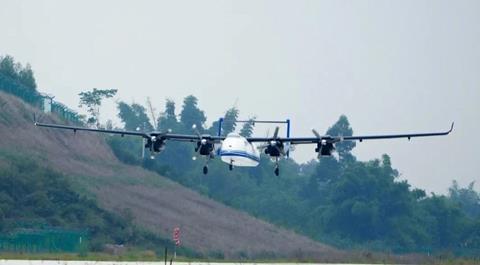 It has a wingspan of 20m, a length of 10.5m, with a maximum payload of 1.5t and a maximum take-off weight of around 4.4t.
Media reports note that the use of four engines allows the UAV to perform better and fly further, allowing it to operate "multiple missions" at a time. They did not state the model of the engines, nor the UAV's intended range.
The prototype is expected to debut at this year's Zhuhai airshow, set to run from 8 to 13 November.
Chinese media reports were also quick to point out that the UAV is "independently developed by China with complete intellectual property rights", a pointed reference to claims in the West of Beijing stealing intellectual property rights.
Sichuan Tengden also manufactures a military version of the UAV, known as the TB-001, a medium-altitude, long-range UAV with a maximum payload of around 1.2t. Mockups of its UAVs were on display at the 2018 edition of the Zhuhai airshow.