Airbus Helicopters believes it is in a position where it could begin the certification process for a new rotorcraft architecture following a series of flight tests in recent years with urban air mobility (UAM) demonstrators.
Last year, the airframer conducted a flight-test campaign with the all-electric CityAirbus vehicle at sites in Donauworth and Manching, Germany. This followed a previous effort in the USA with the single-seat Vahana demonstrator which ended in 2019.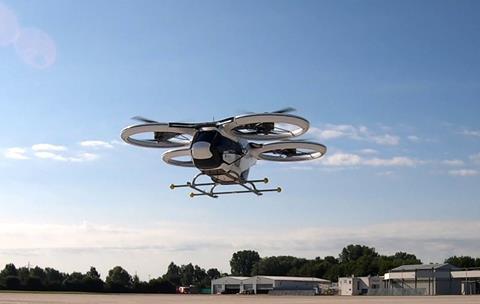 Chief executive Bruno Even says the next challenge in the UAM space is to gain regulatory approval for any design.
However, based on "what we have learned" from the two vehicles "we consider we are ready now to prepare and launch a new architecture and to certify it with our authorities", he says.
Test flights of the CityAirbus will continue this year, says Even, as "each test helps us to learn more".
"But this flight-test campaign delivered all that we were expecting in 2020."
CityAirbus is an all-electric design which features four pairs of shrouded rotors, enabling it to carry four passengers and a single pilot.
Airbus Helicopters is already developing new controls for its UAM vehicles, using its newly unveiled H130-based Flightlab flying testbed.
These will "modify the ergonomics of pilot controls to make helicopter flight more intuitive and easy".
The same platform has also been used to conduct acoustic research, studying how noise is generated and amplified in built-up areas. Ensuring that UAM vehicles operate quietly is key to their widespread acceptance, the manufacturer believes.